GHG Emissions in the value Chain
Visualizing value supply chain GHG in relation to corporate activities
As climate change becomes an increasingly serious issue, companies must manage not only their own greenhouse gas (GHG)*1 emissions but also emissions generated across their entire value chain.
Based on the GHG Protocol*2, which provides international standards for calculating GHG emissions, and the Ministry of the Environment's Basic Guidelines for Calculating GHG Emissions throughout the value Chain, Toshiba Tec Group calculates indirect GHG emissions generated outside the scope of its own business activities (Scope 3) in addition to its own emissions (Scopes 1 and 2) in accordance with Toshiba Group's Policy.
Toshiba Tec Group will continue working effectively throughout product lifecycles by quantitatively analyzing emissions per category as described above.
※1

CO2 、CH4 、N2O、HFCs、PFCs、SF6 、NF3

※2

The Greenhouse Gas Protocol (GHG Protocol): Guidelines for calculating and reporting GHG emissions formulated by companies, NGOs, and government organizations under the leadership of the World Resources Institute (WRI) and the World Business Council for Sustainable Development (WBCSD)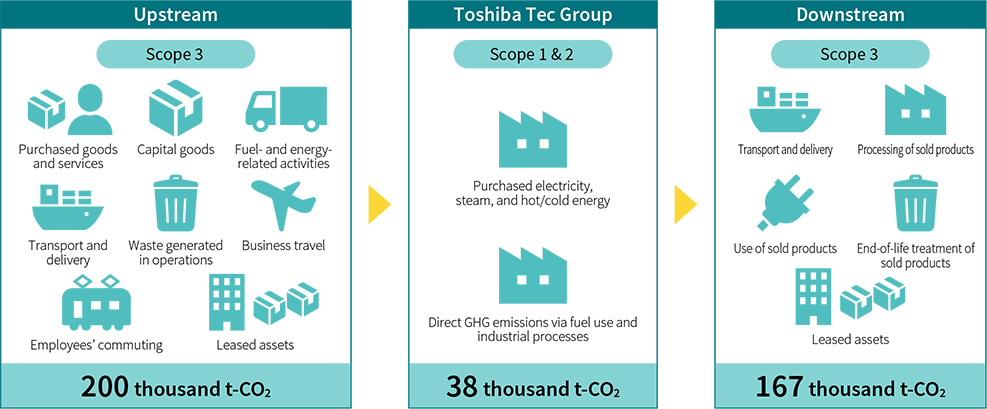 Cat-egory
Categories covered by calculations
FY2020 calculation results (thousand t-CO2)
FY2021 calculation results (thousand t-CO2)
Percent change in emissions
Remarks
Up-stream
1
Purchased goods and services
98.6
102.3
104%
2
Capital goods
42.5
42.7
100%
3
Fuel- and energy-related activities not included in Scope 1 and 2
8.9
10.7
121%
4
Transport and delivery (upstream)
2.3
2.3
101%
5
Waste generated in operations
0.2
0.2
94%
6
Business travel
1.6
1.6
103%
7
Employees' commuting
1.0
0.8
75%
8
Leased assets (upstream)
-
-
-
This category does not apply to Toshiba Tec's business.
Toshiba Tec
9
9 Direct emissions (Scope 1)
3.0
3.1
101%
10
Indirect emissions associated with energy use (Scope 2)
48.8
45.5
93%
The figures include contribution based on environmental value certification.
Down-stream
11
Transport and delivery (downstream)
-
-
-
This category does not apply to Toshiba Tec's business.
12
Processing of sold products
-
-
-
This category does not apply to Toshiba Tec's business.
13
Use of sold products
275.5
252.6
92%
14
End-of-life treatment of sold products
3.8
4.2
109%
15
Leased assets (downstream)
-
-
-
This category does not apply to Toshiba Tec's business.
16
Franchising
-
-
-
This category does not apply to Toshiba Tec's business.
17
Investment
-
-
-
This category does not apply to Toshiba Tec's business.
Total
486.3
466.1
96%