Greening of Process
"Greening of Process" means paying attention to the environment in manufacturing activities. The Toshiba Tec Group is continuously working to reduce environmental impacts by making factory infrastructure and production processes more efficient from three perspectives: mitigation of climate change, efficient use of resources, and management of chemical substances.
Initiatives to reduce environmental impacts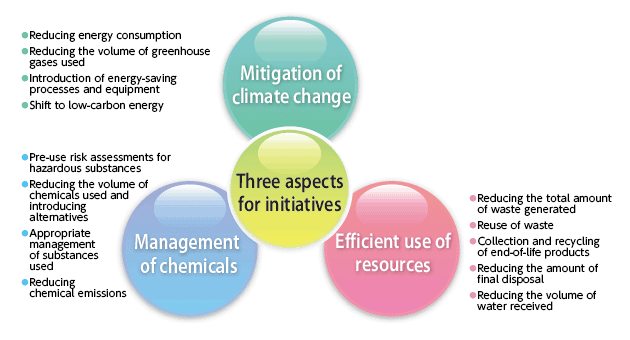 In terms of climate change, the CO2 emission coefficient for electricity in Japan has deteriorated considerably due to the effects of the March 11, 2011 Great East Japan Earthquake, and indications are that this is greatly affecting the Toshiba Tec Group, where electricity-derived CO2 emissions account for a majority of total GHG emissions. With the possibility of sharp rises in electricity rates in the future, the Toshiba Tec Group is taking active energy-saving measures on a company-wide scale and will thus reduce the growth in CO2 emissions to the maximum possible extent. In fiscal 2013, we will plan to carry out energy-saving survey at the site in China where the rate of CO2 emissions is highest in the Toshiba Tec Group and improve based on the survey result in order to reduce CO2 emissions. In terms of effective use of resources, we will continue to make maximum use of our ingenuity in reducing the total volume of waste generated and final waste disposal volumes, recycling and also proactively promote high-quality. As for the management of chemical substances, we will make efforts to discontinue the use of substances targeted for reduction mainly through the introduction of alternative substances and process improvements.
Environmental impacts resulting from business operations