Message from the President
Create Solutions that Aim for Sustainability and Contribute to Society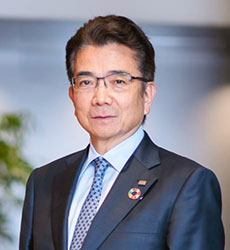 I am the newly appointed President and Chief Executive Officer, Hironobu Nishikori. I will do my utmost to meet all of our stakeholders' expectations. Thank you very much for your cooperation.

This year, our company celebrates its 70th anniversary. In recent years, cashless and paperless systems have progressed, and the shift towards a data-driven society has accelerated. In order to further develop in this kind of a business environment, it is necessary to gather together data from various business sites, make it valuable, and provide it to customers as solutions for their issues. I would like us to actively cooperate with other companies that possess excellent technology to realize these solutions.

I believe that data can even contribute to the alleviation of social problems. We will work at full throttle to create solutions that aim to realize a sustainable society through the resolution of our customers' problems.

Hironobu Nishikori
President and Chief Executive Officer