Message from the President
Aiming to become a global top solutions partner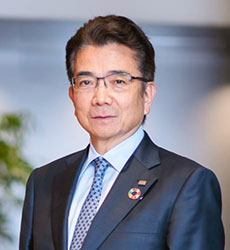 This is our corporate philosophy defining shared values for all the employees of the Toshiba Tec Group to lead us to achieve a consistent growth by looking to the future and changing ourselves proactively even amid the era of uncertainty.
The world is now faced with global scale environmental changes and complicated social issues, such as waste loss due to overproduction, increasing carbon dioxide, labor shortage and workstyle reform.
With the aim of contributing to solving these issues, the Toshiba Tec Group will promote initiatives to build eco-systems through co-creation with its customers and partners who have expertise and solutions know-how in growth fields, such as next generation stores, payment, SCM and data services by taking full advantage of the Group's physical assets based on solid customer bases and sales and service networks which the Group retains in its retail and workplace solutions business domains. Eventually, we will aim at becoming "A global top solutions partner" who can impress the world and delight everyday life of people under the revolutionary period.
We, the Toshiba Tec Group, have been striving to create a bright future by exchanging visions with customers and partners since its founding in 1950. We will be firmly committed to continue such efforts and provide you with unseen inspiring products and services by creating new values together with customers, partners and all the stakeholders.

Hironobu Nishikori
President and Chief Executive Officer