Message from the President
Acting with the Spirit of Customer Value-Creation First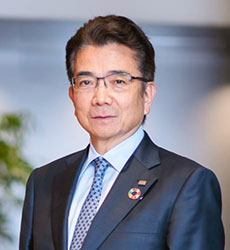 Over many years since our foundation, Toshiba Tec has inherited a corporate culture of the "spirit of Monozukuri from the customer's standpoint." A key topic in conducting Monozukuri in any era concerns finding solutions. There is an endless array of issues for our customers, whom we view as a community, in the fields we have supplied products and services to thus far, notably distribution and retail industries, eating and drinking establishments, logistics and manufacturing industries, and offices.
For Toshiba Tec, a critical mission is to pay close attention to the opinions of these customers and come up with ingenious ways to create new value.
To achieve this, we seek to provide total one-stop solutions and services in addition to hardware that include consulting on system creation, software and maintenance services, which truly underpins our unchanging stance toward Monozukuri.
As we move forward, to respond to the true needs of our customers, we value inspiration and ideas from each division of the company, including product planning, research and development and sales. We will also provide solutions that are one step ahead for all of our customers while contributing to the realization of a better society for the future.

Takayuki Ikeda
President and Chief Executive Officer
*Monozukuri:creating our products with pride and passion.