Message from the President
Aiming to become a "Solutions Partner" working closely to the benefit of our customers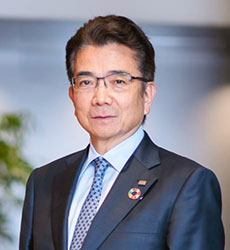 After taking office as the President and CEO and Representative Director of Toshiba Tec Corporation in June, 2020, I have been relentlessly striving to improve the profitability of the Toshiba Tec Group. We have been implementing structural reforms on a global basis with a sense of speed while concurrently promoting structural transformation of the Group aimed at getting back on the growth path. As a result of those efforts, we realized a significant profitability improvement in the 2nd half of fiscal year, 2020, enabling us to shift our focus to the offensive management in the fiscal year, 2021.
As for the Retail Solutions Business, we will work on to create new values to resolve our customers' issues which are getting more complicated and diversified through our agile actions to responding to changes of global market environments. We are aiming to become a global top solutions partner in the retail distribution industry and are determined to aggressively promote Digital Transformation (DX) through collaborations with our valuable business partners to establish the platform which is absolutely essential to achieving the goal.
As for the Workplace Solutions Business, we will accelerate the business model transformation from the printing centric to data management and ensure to strengthen the structure of all the business fields in perspective of creating integrated solutions by leveraging the strengths of Toshiba Tec's unique product lineup, such as Auto-ID business and Inkjet business.
We, all the employees of the Toshiba Tec Group, are working hard together and are firmly committed to achieve sustainable growth of each business and further enhancement of corporate value under the slogan of corporate philosophy - "Create with You" -.

Hironobu Nishikori
President and Chief Executive Officer