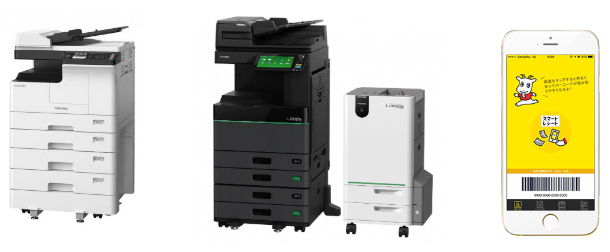 Special FeatureSDGs x Toshiba Tec
In addition to our CSR initiatives at Toshiba Tec, we are also working hard to contribute to the SDGs through our business and corporate activities.
In this special feature, we will introduce Toshiba Tec's views in relation to the SDGs, exactly what initiatives we are tackling, and our products that contribute to the achievement of these goals.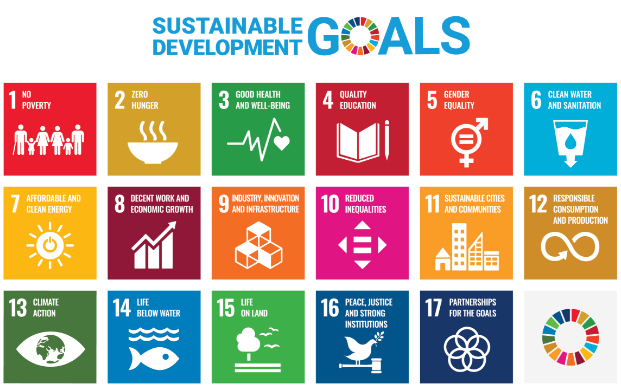 SDGs is an abbreviation of Sustainable Development Goals. They are a set of 17 goals to achieve by 2030 with the aim of transforming our world, and were agreed upon by the 193 member states of the United Nations at a summit in 2015.
There were also a set of goals which preceded the SDGs, namely the Millennium Development Goals or MDGs. The MDGs were a series of eight goals to achieve by 2015, primarily focused on the elimination of extreme poverty and starvation, and while some progress was made, the target was limited to developing countries, and private companies were somewhat indifferent.
The content of the MDGs was inherited by the 2030 Sustainable Development Agenda, and the SDGs became a rather large and comprehensive set of goals to solve social issues worldwide, targeting not just developing countries, but developed countries too. At Davos 2017, it was concluded that the SDGs would also provide new opportunities for corporate management to develop.
Nations, institutions, and companies around the world are making great efforts to preserve the earth's bountiful nature and resources for the future, and to create a world where everyone can live happily, and no one is left behind.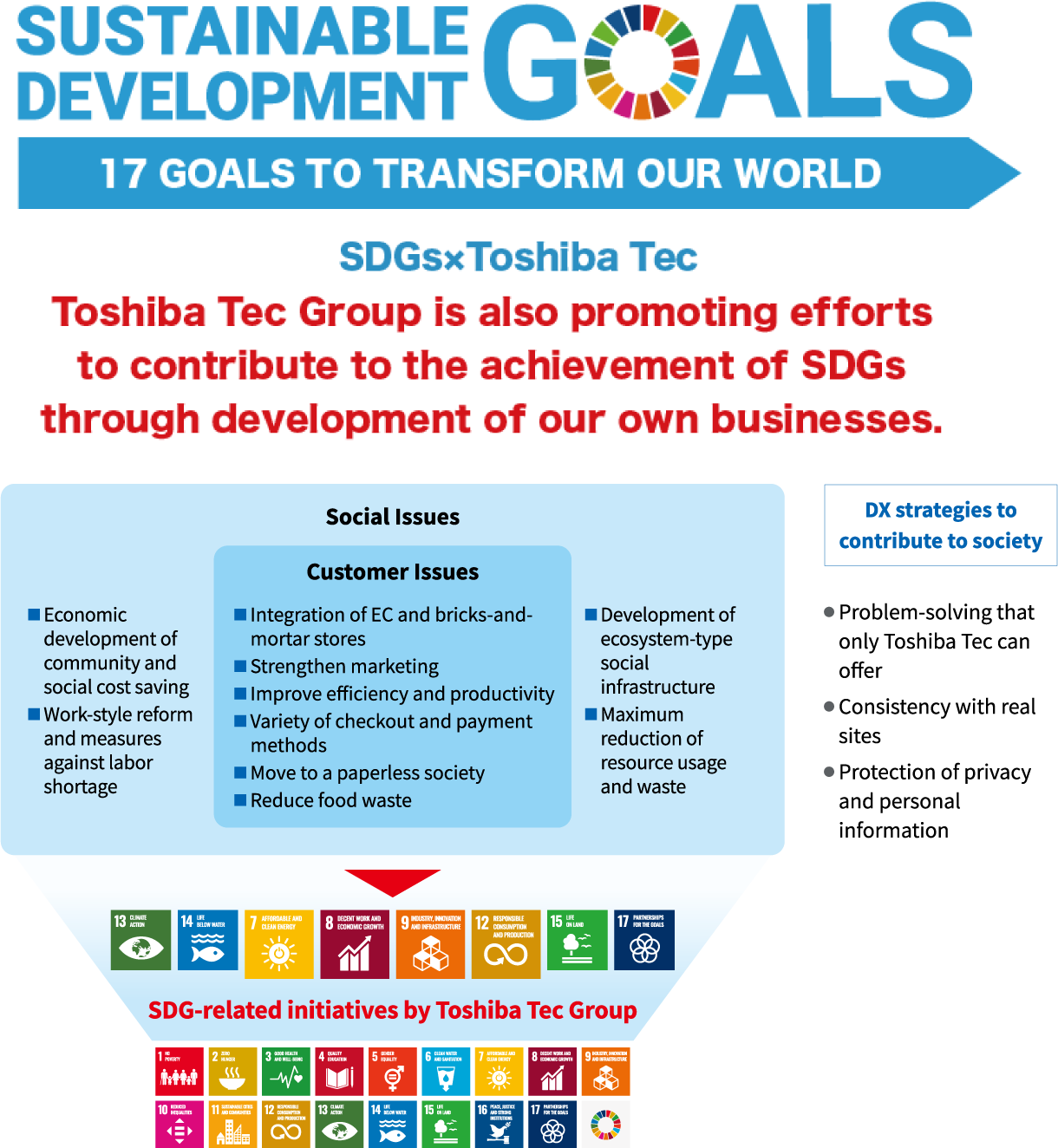 As our customers' solution partner, we focus our efforts on solving issues in stores, offices, logistics, and production. Part of our role is to tackle initiatives that help our customers achieve SDGs.
Our corporate philosophy, Our Five Commitments, which was laid out in 2004, is a declaration of what role we should play in society, and by steadily putting it into practice, we have made the Toshiba Tec Group into what it is today. Taking a deeper look at its essence reveals that large parts of it are directly related to contributing to the SDGs.
For example, the first commitment, "With our customers and partners, we will provide new values in a timely manner,"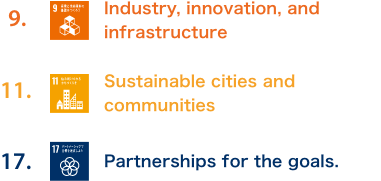 is related to the following SDGs:
It could be said that completing our work quickly and autonomously while also bearing in mind that our corporate philosophy is everyone's job and putting it into practice is already contributing to the SDGs.

With our customers and partners, we will provide new values in a timely manner.

We aim to provide timely products and services with reliable quality and functions as well as high user-friendliness, creating value with our customer in mind through our superior proprietary technology and in collaboration with the world's best partners.

With other group employees, we will develop a professional team which seeks new challenges.

We want to foster an open and healthy corporate culture in which a strong professional team may tirelessly seek new challenges, by respecting the individuality of each employee, striving to promote each one's abilities, and implementing a fair and appropriate system of evaluation and rewards.

With communities, we will help to realize a society where people can enjoy active lives.

We seek to contribute toward the development of a global society as a good corporate citizen, law-abiding and ethical, by fulfilling our responsibilities toward each country and community in which we operate and respecting local culture and history.

With everyone, we will strive for a future that looks after the environment.

We put concern for the environment as a priority in all our business activities so as to protect people's safety and health as well as the world's natural resources.

With our shareholders' expectations in mind, we will carry out sound and transparent management.

We endeavor to maximize our corporate value, and on the basis of sound and transparent management, we strive to achieve appropriate profits and reserves, constantly seek to implement management innovation and energetically invest in research and development, among others, in order to meet the expectations of our shareholders.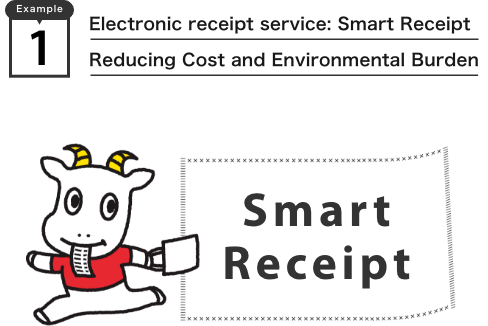 This is a convenient application that allows customers to receive and manage receipts on their smartphone in an electronic form instead of a conventional paper version. This solves the problems such as bulging wallets and difficult management that visitors to stores have been suffering, at the same time as cutting costs for stores and helping reduce the burden on the environment.
The use of coupon and stamp card features is also expected to improve footfall and customer satisfaction.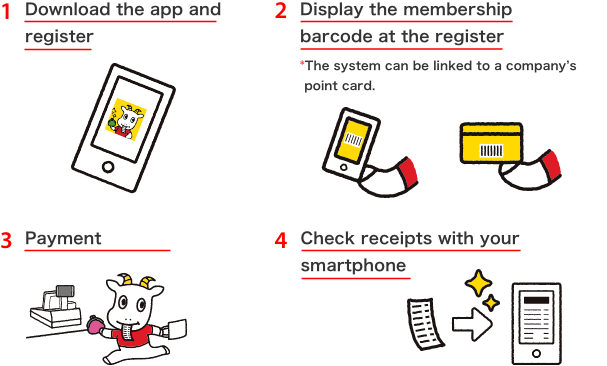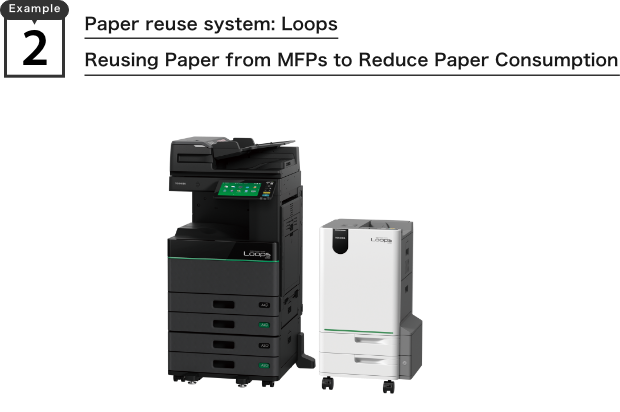 Loops is a system which is able to print and erase on standard copy paper, allowing it to be reused. A single machine can be set such that it provides traditional monochrome printing for documents to be presented to customers or to be saved, as well as erasable printing for receiving faxes or internal documents such as check sheets, so without any change to existing workstyles, the amount of paper used for printing can be reduced. It is also capable of digitizing documents as it erases them, helping prevent papers from piling up, and realizing an ideal cycle of paper documents and electronic data.