Offering of Environmentally Conscious Products and Services
We pursue the creation of products with the highest environmental performance and reduce environmental impact throughout the life cycle of all products developed.
Development of Products with the Highest Environmental Performance
We pursue the highest level of environmental performance for all products that we develop and advance activities aimed at reducing the environmental impact throughout the product life cycle.
First, we set "eco-targets" for the development of products with the highest environmental performance at the time of product release, in the stages from business strategy to product planning based on technological and competitor trends.
Then, in the development and design stages, we conduct environmental assessments to make sure that products comply with laws and regulations and meet the ECP standards*1 in all three aspects (mitigation of climate change, efficient use of resources and management of chemicals) in each stage of the life cycle.
In the product approval stage, we check the level of achievement of "eco-targets" and compliance with the ECP standards, and then, certify those products with the highest environmental performance as "Excellent ECPs".
There are concerns everywhere about the demand for social infrastructure products, increased consumption of electricity and resources. In order to reduce environment impact, we aim at creating and further increasing the number of Excellent ECPs with the highest environmental performance in the industry.
*1:

Environmentally Conscious Products (ECPs) are designed to minimize environmental impact in all stages of the product life cycle, including procurement of materials, manufacturing, distribution, usage, disposal and recycling.
Basic Policy for Environmentally Conscious Products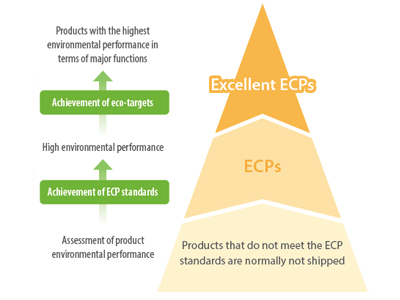 Response to climate change
Reductions in power consumption
Reductions in standby electricity consumption
Visualization of power consumption
Energy-saving mode
Shipment mode, etc.
Response to Circular Economy
Reductions in the use of raw materials
Use of recycled materials
Ease of disassembly
Reductions in the use of packaging materials
Reductions in the use of supplies
Upgrades, longer useful lives, etc.
Measures for Conserving Ecosystems
Reduction in the use of specific hazardous substances
Green Procurement
Distribution of information on chemicals
Compliance with chemical regulations in different countries, etc.
System for Environmentally Conscious Products