Message from the President
Acting with the Spirit of Customer Value-creation First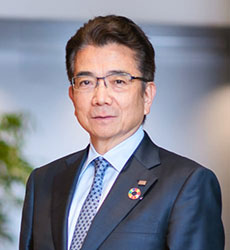 The Toshiba Tec Group aims to be a company that can continually provide the best solutions to customers, which include the retail, food and beverage industries, as well as logistics, manufacturing industries and offices. We conduct business operations in over 100 countries and regions.
The Group creates and delivers what customers truly need by always taking their perspective as we seek to contribute to society through products and services that satisfy customers.
We consistently aim to be of benefit to our customers and to create new value. Our mission is to please customers through the creation of products and services that exceed their expectations.
Rather than continue on as an extension of the past, we are actively striving to anticipate ever-changing market needs by looking at ways to enhance our creativity and adaptability, thereby enabling a swift response to these changes. By providing solutions that are one step ahead to all of our customers, we endeavor to contribute to the realization of a better society.

Takayuki Ikeda
President and Chief Executive Officer