TOSHIBA WILLPOS A20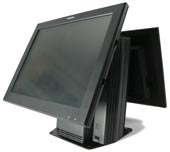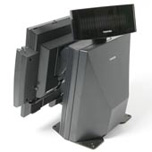 MORE POWER LESS ENERGY
Specifically designed to reduce energy usage and environmental impact, the WILLPOS A20 is the finest POS choice for retailers looking for supreme performance and reliability with impressive green credentials.

Features
GREEN MACHINE
We work to strict ecological policies to benefit both the environment and our customers.
Recyclable chromium-free metal
Recyclable halogen-free plastic
Packaged in recyclable paper products
Built and supported for a long life cycle
Design and manufacturing on ISO14001
LESS ENERGY, MORE POWER
The innovative powerful and low-energy processor gives top-level POS performance whilst reducing running costs and CO2 emissions.
RECYCLING PROGRAM
We will collect and recycle our used units, re-processing them for re-use.
EXCITING - LARGE CUSTOMER TFT & SPEAKERS
Attract, entertain and stimulate customers with movies and music
The possibilities for promotions are infinite
RELIABILITY
HDD Mirroring (RAID1) - Selecting the RAID hard disk option provides invaluable peace of mind, especially for small businesses. Twin hard drives divide and replicate your business-critical information.
SSD - The WILLPOS A20 also supports solid state drives and memory which will resist extreme shocks and temperature variations to give unsurpassed reliability, considerable power savings and very easy maintenance.
FLEXIBILITY FOR CHOICE
We have the flexibility to tailor the following to your specific requirements*:
Remote operator TFT display customisation for smaller checkout areas
Non-touch customisation for keyboard input for non-touch software
Cabinet colour options
Delivery timescales
Software options for all markets (software by Toshiba in-house or partner)
*(subject to minimum order)
Specifications


15" Model
12.1"Model
CPU
Intel Celeron M 440 (1.86GHz)/ Intel Core2 Duo T7400 (2.16GHz)
Memory
512MB/ 1GB (Max. 4GB) DDR2-533/ PC-4200, 2 slots
Operator Display
15" TFT Touch (1024 x 768)
12.1" TFT Touch (800 x 600)
Customer Display
2 Lines x 20 Characters VFD
15" or 12.1" TFT with Dual display option

HDD
Type A: 160 GB or over, SATA x 1 (Max. 2 Drives)
Type B: 250GB or over, SATA x 1 (Max. 2 Drives)
RAID
Optional : Type B: 2 x 250GB or over (RAID1)*

Options
Single-sided receipt printer - double-sided receipt printer
remote customer display - cash drawer - fixed or tilting LIU display
iButton (Dallas key) - magnetic stripe card reader - top cover
wireless cover with cable (USB) solid state flash disk (Max. 4GB)
Interfaces
2 x COM D-Sub9 (male); 2 x powered COM D-Sub9 (female)
6 x USB (2.0), 2 x powered USB (12V), 1 x powered USB (24V)
1 x PS/2 for mouse & 1 x for keyboard
2 x 24V drawer interface
1 x 15 pin VGA female type
LAN 10Base-T/100 Base-TXEthernet (RJ45) with LED
Audio
Line-out / Mic-in, 2 x stereo speakers with volume control
AC Inlet
AC inlet connector
Power Supply
95W / 105W internal switching
Weight
11.5 kg / 25.35 lbs

10.5 kg / 23.15 lbs

Dimensions
366 (W) x 251 (D) x 359 (H) mm
14.4"(W) x 9.88"(D) x 14.13"(H)

306 (W) x 247 (D) x 337 (H) mm
12.04"(W) x 9.72"(D) x 13.26"(H)

*RAID1 : Mirroring

Support OS:Windows7, Windows Vista, Windows XP, POSready2009, WEPOS, SUSE Linux Enterprise Desktop 10.0/11.0
Device Driver: OPOS, JavaPOS