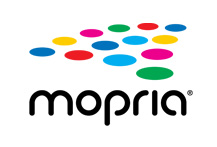 MOPRIA®
Easy: Totally
Mobile

Printing

Now you can print wherever you are -- whenever you need to. And you don't need to install a driver. It's intuitive, totally mobile. EASY!
Android-
Easy
Mopria is one of those must-have services for people on the go. Forget the hassle of drivers, print from your Android phone or tablet -- easily.
Summary Screen
The
How

of Mopria

Just download Mopria Print Service from Google Play. Your Android device will automatically detect an output device on the network so you can print photos, emails, web pages and the like -- even cloud data! As we've said, it's easy -- no special apps or drivers required.
And you have lots of choice. You can set the number of copies, duplex printing and page range. A screen shows you all the settings at a glance.
Print wherever -- whenever.
Several Print Setting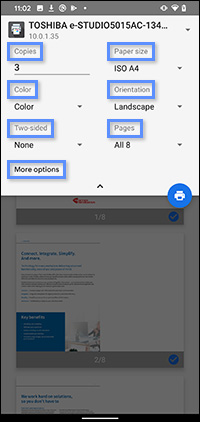 Operation is
simple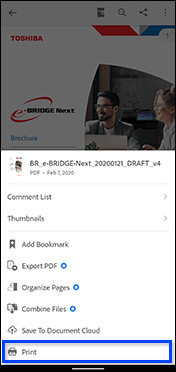 Select "print" from menu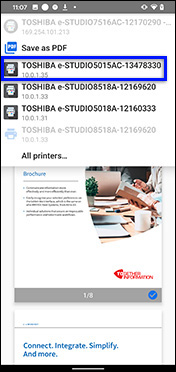 Select a device from a printer list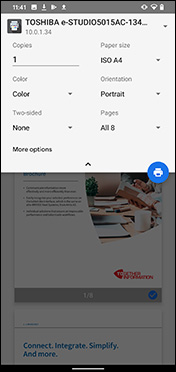 Input the print setting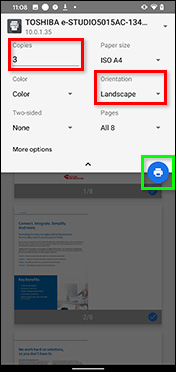 Tap the print icon
* Android (10) smartphone
Why

the Mopria® Alliance ?
A universal standard -- universal convenience

As everyone knows, mobile is the biggest, fastest evolving market -- ever. There are all sorts of OS's and countless apps. But that diversity of choice means a diversity of standards, which doesn't make it always easier for users.
Mopria is a non-profit organization. Its goal is a universal standard that provides on-the-go printing convenience for everyone.
Toshiba's vision is Together Information which means helping people and organizations share information more effectively through better products and solutions. So, naturally we wanted to join the Mopria Alliance, to take advantage of cutting edge technology, offering people an upgrade in ease of use, greater compatibility, and more universal mobility.
Mopria Cerified TOSHIBA Printing Devices
Color MFPs
Monochrome MFPs
Hybrid MFP