e-STUDIOe-STUDIO2523A/2523AD/2823AM series/2829A series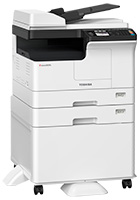 Taking over a lot of features of previous models, these new models have a lot of improvements such as enhancement of operability, usability, and compliant the latest environmental regulations.
Simple but higher functional.
Specifications
Model
e-STUDIO
2523A/2523AD
e-STUDIO
2823AM series
e-STUDIO
2829A series
General Feature
Copy / Print Speed (ppm)
25
23/28
23/28
Warm-up Time
Approx. 15 sec.
Memory
256MB
512MB
512MB (In case of PS option, 1GB)
Storage
-
Dimension (W × D × H)
575×540×402 mm / 22.6"×21.3"×15.8"
Weight
Approx. 25.5 kg / 56.2 lbs
Input Paper Capacity
Standard
350 sheets
Maximum
600 sheets
Available Paper Weight
64 - 216 g/m² / 17 - 110lbs. Index
Available Paper size
A5-R to A3 / ST-R to LD
RADF
Opt.
(RADF and Platen Cover)***
Opt. (RADF) 
Std. (Platen Cover)***
Opt
(RADF and Platen Cover)
Duplexing
Opt. (Std. for eST2523AD)
Opt. (Std. for eST2823AM)
Std.
Finishing Option
-
Copier Feature
First Copy Speed
6.4 sec. (A4) / 6.5 sec (LT)
Resolution
2,400 × 600 dpi (with smoothing)
Multiple Copy
Up to 999
Printer Feature
Resolution
600 × 600 dpi, 2,400 × 600 dpi (with smoothing)
PDL
GDI
GDI
PCL6 Emulation/ PS3 Emulation(Opt.)/ PCL5e Emulation
Interface
Standard
USB2.0
USB2.0, 10/100baseT
Option
-
Wireless (IEEE802.11b/g/n)
Scanner Feature
Resolution
150/200/300/400/600* dpi
Max. Scan Speed
Color
24 spm (200dpi)
B & W
25 spm (all resolution)
Data format
TIFF, PDF, JPEG**
Scan Protocol
-
SMB
SMB, FTP
Scan to USB/ Mobile
 Yes
Security Feature
Standard
Department code
Optional
-
* 400dpi and 600dpi in colour mode are available only for A4/LT size or smaller and A5/ST-R size respectively.
** When using "Scan to USB" function.
*** Specifications and options vary by region.