AirPrint™ means air-easy !
Now you can print wherever you are -- whenever you need to. And you don't need to install a driver. It's easy, intuitive, totally mobile.
As natural as breathing. It's air-easy.
AirPrint™ means
iOS

easy

AirPrint lets you to print from your iOS or Mac device without installing drivers or downloading extra software. It's just super easy.
Summary Screen
The
How

of AirPrint

Your iPhone®, iPad®, iPod touch® and Mac will automatically detect an output device on the network so you can print photos, emails, web pages and the like -- even data stored in the Cloud. As we've said, it's easy -- no special apps or drivers required.
And you have lots of choice. You can set the number of copies, duplex printing and page range. A screen shows you all the settings at a glance. Print wherever -- whenever.
Summary Screen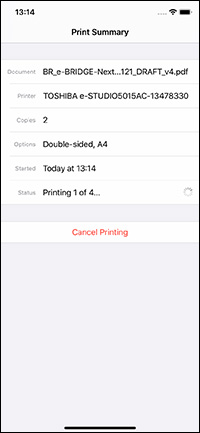 Operation is
simple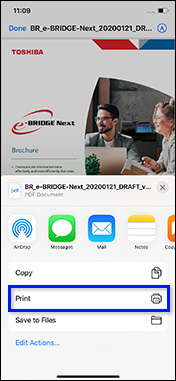 Select "print" from menu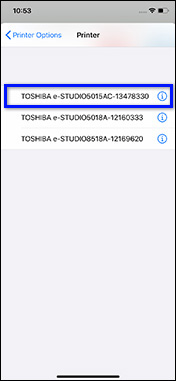 Select a device from a printer list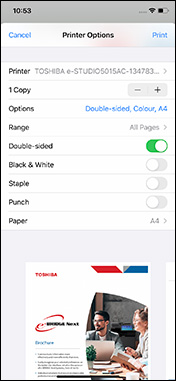 Input the print setting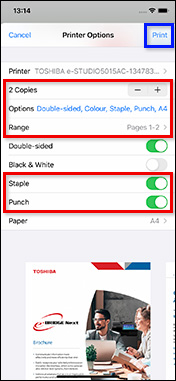 Tap "Print"
* iPhone (iOS 13)
AirPrint Cerified TOSHIBA Printing Devices
Color MFPs
e-STUDIO2500AC series
e-STUDIO2500AC
e-STUDIO2000AC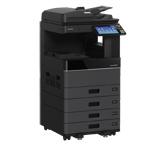 e-STUDIO5005AC series
e-STUDIO5005AC
e-STUDIO4505AC
e-STUDIO3505AC
e-STUDIO3005AC
e-STUDIO2505AC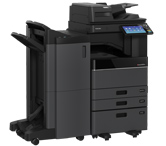 e-STUDIO7506AC series
e-STUDIO7506AC
e-STUDIO6506AC
e-STUDIO5506AC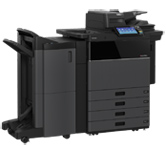 e-STUDIO407CS series
e-STUDIO407CS
e-STUDIO347CS
e-STUDIO287CS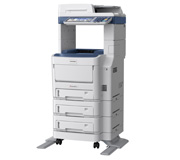 e-STUDIO2550C series
e-STUDIO2550C
e-STUDIO2050C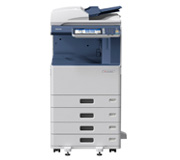 e-STUDIO5055C series
e-STUDIO5055C
e-STUDIO4555C
e-STUDIO3555C
e-STUDIO3055C
e-STUDIO2555C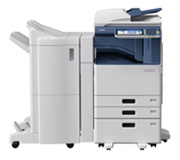 e-STUDIO6570C series
e-STUDIO6570C
e-STUDIO6560C
e-STUDIO5560C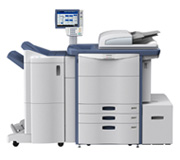 Monochrome MFPs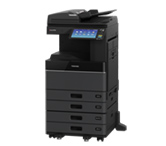 e-STUDIO5008A series
e-STUDIO5008A
e-STUDIO4508A
e-STUDIO3508A
e-STUDIO3008A
e-STUDIO2508A
e-STUDIO2008A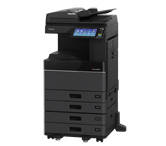 e-STUDIO8508A series
e-STUDIO8508A
e-STUDIO7508A
e-STUDIO6508A
e-STUDIO5508A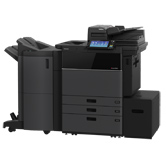 e-STUDIO507 series
e-STUDIO507
e-STUDIO457
e-STUDIO357
e-STUDIO307
e-STUDIO257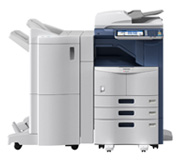 e-STUDIO857 series
e-STUDIO857
e-STUDIO757
e-STUDIO657
e-STUDIO557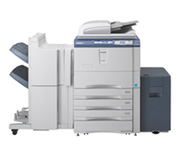 e-STUDIO527S series
e-STUDIO527S
e-STUDIO477S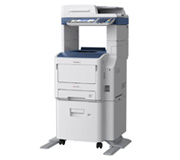 Paper Reusing System
e-STUDIO307LP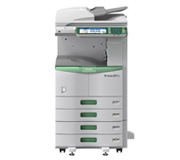 * iPad, iPhone, iPod, and iPod Touch are trademarks of Apple Inc., registered in the U.S. and other countries. AirPrint and the AirPrint logo are trademarks of Apple Inc.