Human Resource Development
We have fair personnel systems in place to help diverse employees play active roles by fully demonstrating their abilities, as well as make efforts to develop and deploy human resources.
Human Resource Utilization and Development
We define "respecting the individuality of each employee, striving to promote each one's abilities, and implementing a fair and appropriate system of evaluation and rewards" as part of our corporate philosophy, and aim to continue systematically securing and developing competent and competitive human resources to form a strong professional team that will continue to tirelessly seek new challenges for the growth and development of Toshiba Tec.
Training program / education system
We provide training programs to establish a shared base for our employees and systems that can respond to individual needs and career characteristics.
Topics
Global HR development and training
Under the current business environment, the need for human resources who can play active roles in the international arena is increasing. With a focus on the development of global human resources who have a deep cross-cultural understanding and the ability to carry out their tasks through dialogue with people around the world, we provide a global human resource development program for young to midcareer employees. The program systematically covers not only languages but the raising of personnel equipped with operational knowledge, culture and good sense that can be deployed around the world.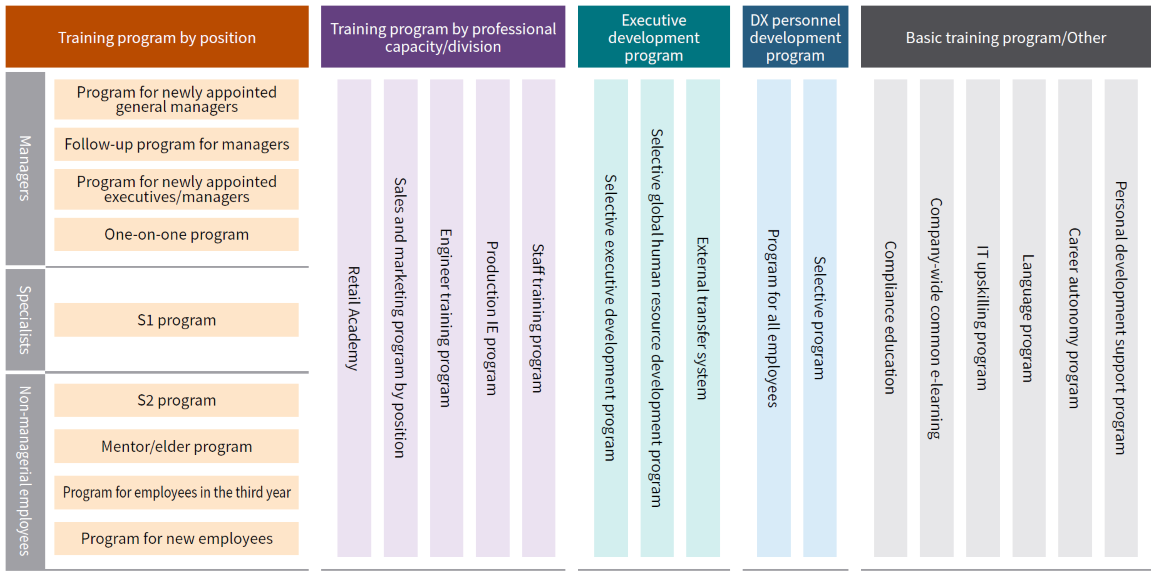 Career development support program
As part of our Human Resource Utilization and Development system, we have adopted the Career Design Program (CDP) since 2011 to create an individual 3-year development plan based on the CDP, and annually conduct interviews and reviews in order to ensure that employees continue to grow as professionals. With the aims of ensuring that employees and supervisors understand and communicate with each other, as well as sharing their long-term career plans and express life-style wishes that include the employee perspective on life, without being bound by the CDP-based 3-year plan, we implement the Career & Life: Mutual Understanding Program along with interviews for CDP, helping a variety of employees work with enthusiasm, pride and will to challenge themselves.
We provide an opportunity for employees to develop their own careers. For example, our Internal Job Posting System helps each employee apply for personnel transfer in order to fill a vacant post announced by a division. We also introduced a one-on-one interview system in fiscal 2021, where employees and their supervisors regularly meet one on one to foster mutual understanding, and thereby build a relationship of trust. The system is designed to help employees develop their career together with supervisors by making it easy for employees to share their own desired career from time to time.
External transfer (rental transfer)
We launched an external transfer system from the second half of fiscal 2019 as a human resource development program for creating new businesses with a view to nurturing human resources and next-generation leaders capable of triggering innovation and organizational change.
Under the system, employees are given the opportunity to work on-site at startup companies for half a year, thereby experiencing the speed in startup businesses and acquiring the perspective of looking at the whole organization from a bird's-eye view. By having first-hand experience in creating new value, they are expected to obtain a new set of eyes to acknowledge their own capability apart from Toshiba Tec as well as the company Toshiba Tec itself. During the transfer, employees receive monthly support from external mentors who have experienced new businesses, as opportunities for dialogue to deepen what they learn and notice. Six employees were transferred under the system in fiscal 2021.