Respect for Human Rights
We comply with universal principles regarding human rights and labor practices worldwide, and respect human rights through sound business activities.
Policy on Respect for Human Rights
Toshiba Tec Group stipulates respect for human rights as Article 1 in the Standards of Conduct for Toshiba Tec Group, and has declared that it conducts corporate activities with consideration of human rights. In light of recent changes in global society's awareness of human rights, we updated the Toshiba Tec Group Human Rights Policy in March 2023. We understand that our corporate activities may impact human rights, and that we fulfill our responsibilities by respecting the human rights of all stakeholders involved in Toshiba Tec Group's corporate activities.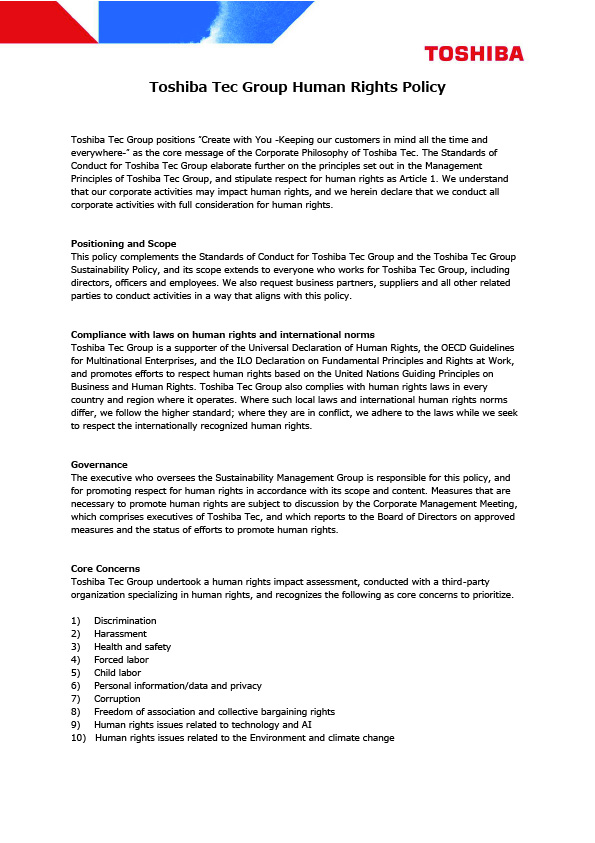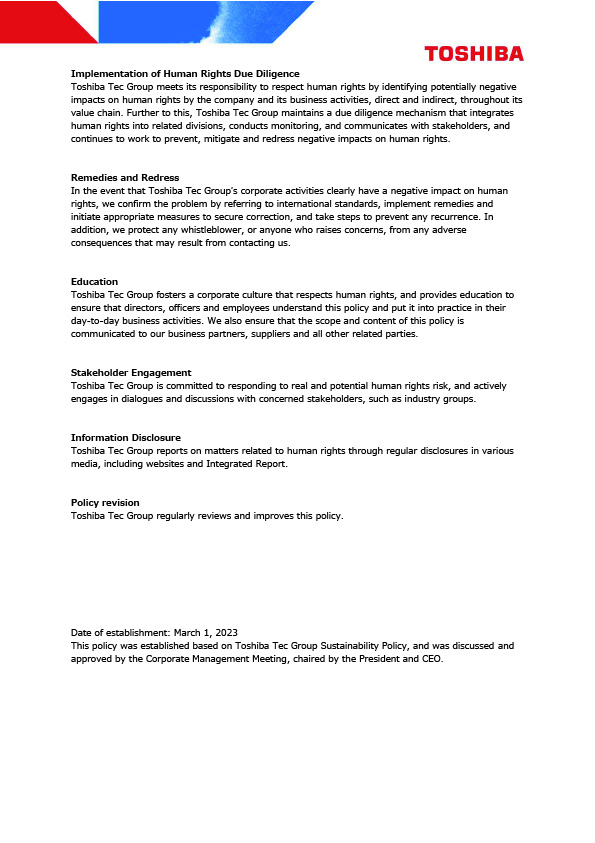 Toshiba Tec Group Human Rights Policypdf(238KB)
In revising the policy, we referred to international norms and guidelines, including the United Nations Guiding Principles on Business and Human Rights, the Universal Declaration of Human Rights, and ISO 26000. This policy supplements the Standards of Conduct for Toshiba Tec Group and the Toshiba Tec Group Sustainability Policy, and applies to all persons working for Toshiba Tec Group, including directors, officers, and employees. We also request business partners, suppliers, and related parties to act in accordance with this policy.
The executive officer who oversees the Sustainability Management Group is responsible for implementation of this policy.
Standards of Conduct for Toshiba Tec Group
We recognize the importance of implementing our human rights policies not only within the Group but also throughout our supply chain. To this end, we stipulate this policy as "Supplier Expectations" in the Toshiba Tec Group Procurement Policy and request all parties' adherence. We monitor them through annual CSR surveys.
Education and Enlightenment on Respect for Human Rights
Topics
With the aim of establishing a discrimination-free organization that provides job satisfaction, we encourage our employees to foster awareness of human rights. We provide human rights education in the training programs for new employees and appointed managers.
Aiming to create a workplace with excitement and satisfaction where everyone thinks and acts taking ownership
The message delivered during fiscal 2021 Human Rights Week communicated the importance of thinking and acting by taking ownership on an individual basis while taking care of the human rights of others, and called for the promotion of diversity and inclusion. Diversity and inclusion generate new value and ideas by accepting and respecting each other's differences, and lead to sound and sustainable growth of the company, organizations, and each employee with diverse backgrounds by allowing them to enjoy active roles with a sense of job satisfaction. We aim to create a workplace environment with "excitement" and a sense of job satisfaction, where all employees feel respected as a human being, acknowledged, and welcomed. To this end, we will work to raise awareness toward the prohibition and elimination of discrimination against LGBTQ people to foster a workplace environment and a culture without discrimination against sexual minorities, as well as toward childcare leave for male employees to accelerate work-life balance for them, their families, and the entire workplace.