Health and Safety
By placing safety control and healthcare as a top priority issue for management, we are striving to create a safe and comfortable work environment with a focus on the safety and health of employees.
Basic Policy on Health and Safety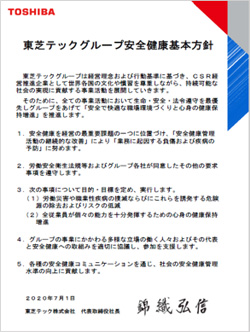 The Toshiba Tec Group formulated the "Toshiba Tec Group Basic Policy on Health and Safety" in 2004, with the intention that the top management declares their commitment to health and safety and all employees share the same commitment.
Safety Control and Healthcare System
The safety control and healthcare system and the health and productivity management system of Toshiba Tec are set out as described in the chart below.
Each business center or office has not only fulfilled the statutory requirements such as appointment of dedicated staff members and holding of meetings of its Health and Safety Committee, but also set up health-and-safety liaison meetings between the head office and regional offices and branches (Operational Department Managers Liaison Meetings and the Head Office Health and Safety Committee), to proactively strengthen the collaboration within the company-wide safety control and healthcare system. In addition, Central Health and Safety Committee meetings are held twice a year (in July and March) to discuss and exchange opinions with the labor union, aimed at raising the level of safety control and healthcare from employees' perspective.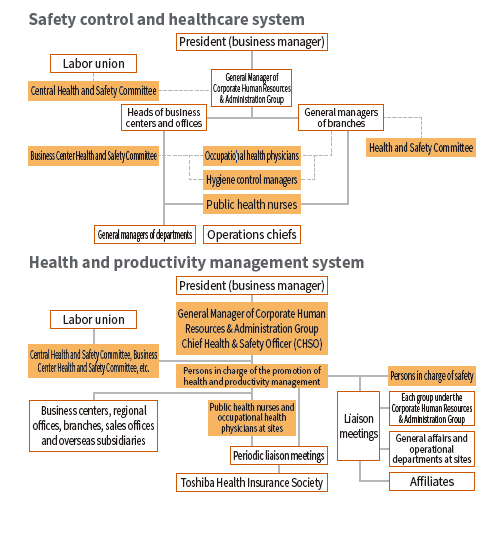 Health and Safety Management Declaration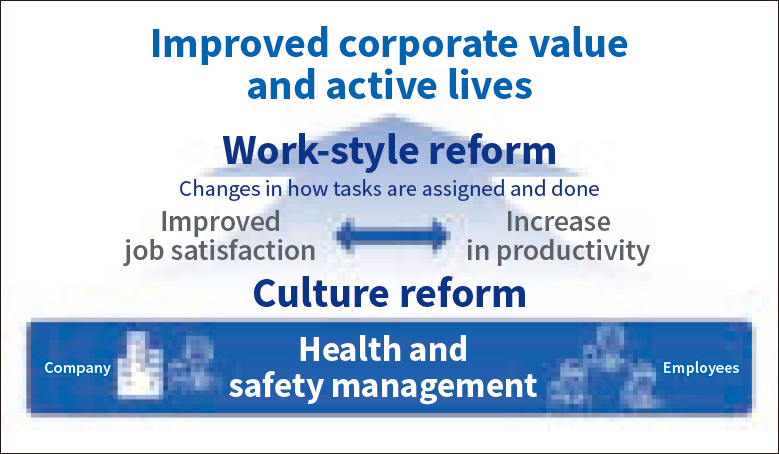 In order for the Toshiba Tec Group to resolve social issues and contribute to the further development of society, we must push ahead with work-style reform, enhancing our working environment and streamlining operations, among others, for better satisfaction of employees and improved productivity.
To accomplish work-style reform, individual employees need to be able to demonstrate their full capabilities, more than anything. To do so, they also need to be able to work in a safe and healthy manner and live a satisfied life. For this reason, we must have a health and safety activity that helps energize employees.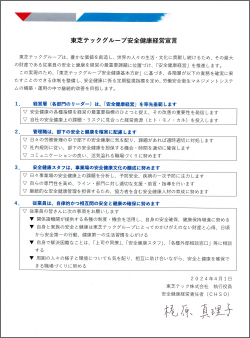 In order to improve existing safety control and healthcare activities and clearly state that the Group will promote the management that places top priority on the safety control and healthcare of employees, the Toshiba Tec Group appointed an officer in charge of the Corporate Human Resources & Administration Group as Chief Health & Safety Officer (CHSO) in October 2021, formulated the Health and Safety Management Declaration, which has clarified roles to be played in health and safety management by the management team, managers, persons in charge of health and safety, and employees, and published it under the name of CHSO.
Promoting Occupational Health & Safety Management System
Toshiba Tec's Shizuoka Business Center and six of our overseas manufacturing group companies has obtained ISO 45001 certification, which is international occupational safety and health management systems.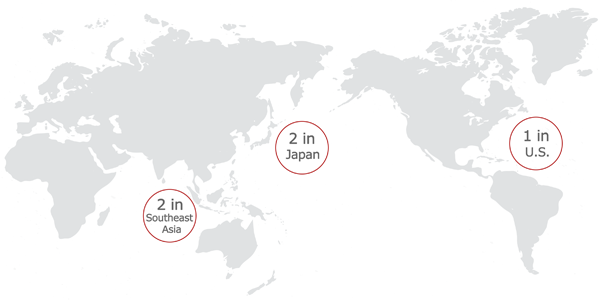 Preventing Industrial Accidents
Toshiba Tec has a lower lost workday incidence rate than the average of all industries in Japan. We strive to prevent industrial accidents by systematically mitigating risks through risk assessment to identify risks that may cause accidents, reviewing operation processes, renovating equipment, and providing training to employees, among other initiatives.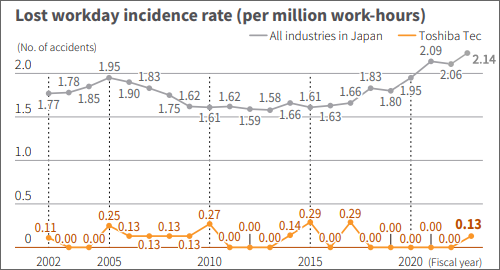 Developing Awareness of Health and Safety
As a measure to raise safety awareness of employees, Chief Health & Safety Officer (CHSO) delivers messages by taking the opportunity of Nationwide Safety Week (July 1 to 7), Occupational Health Week (October 1 to 7) and Year-End/New-Year Zero Accident Campaign (December 15 to January 15), every year.
Ensuring Health Management
We implement various approaches to help all employees raise awareness of health and maintain physical and mental wellbeing. We have introduced a system which unifies information on the results of medical checkups and post-checkup care as the basis for healthcare of employees, and utilize them for various purposes, including health guidance and education.
To prevent disorders due to labor overload stemming from working extremely long hours, we require all employees who worked over a certain number of hours per month to have interviews with a physician for guidance, thus maintaining and promoting their health.
We attach particular importance to the following six topics.
(1) Promotion of health practices (improvement of health literacy)
(2) Invigoration of individuals and workplace (mental health measures)
(3) Prevention of disorders due to smoking
(4) Prevention of infectious diseases
(5) Enhancement of measures to prevent lifestyle-related diseases (brain and heart disease)
(6) Enhancement of safety control and healthcare
Selected under the 2022 Certified Health & Productivity Management Outstanding Organizations Recognition Program (Large Enterprise Category)
Toshiba Tec Corporation was selected by the Nippon Kenko Kaigi as one of the organizations certified under the "2022 Certified Health & Productivity Management Outstanding Organizations Recognition Program" due to its initiatives for healthcare.
* Nippon Kenko Kaigi: A meeting body organized by economic associations and other private-sector organizations with the support of the Ministry of Economy, Trade and Industry
Topics
Training program by age
We have provided a training program by age since fiscal 2015 to encourage each and every employee to acknowledge changes in their physical condition according to age and learn how to cope with them. This program aims to prevent poor health condition by helping them promote physical and mental health practices autonomously. In fiscal 2021, we provided this training online to all eligible employees at the head office, Shizuoka Business Center, and regional offices/branches/sales offices.
< Details >
○ Scope: Regular employees
○ Method: Provided by age groups of 30, 40 and 50-yearsold
○ Time: 60-minute online lecture
Mental health education program
With a focus on disease prevention and health promotion, we provide a mental health program annually for all employees of Toshiba Tec and its domestic group companies. It is intended to encourage each and every employee to acquire the correct knowledge of mental health issues and how to cope with mental and physical disorders, as well as to put these mechanisms into practice.
Prevention of lifestyle-related diseases (brain and heart disease)
We implemented training and support measures to improve health promotion and healthcare for employees posted away from home. This program aims to prevent them from developing brain or heart disease which may lead to extended leave or sudden death, because they tend to receive less support from their families, and therefore are more susceptible to such medical conditions which may cause major work loss.
(Implementation of Healthcare Education Program when Posted Away from Home, distribution of Healthcare Guidebook)