Response to Climate Change
(Information disclosure based on the TCFD recommendations)
The impacts of climate change are becoming more serious every year, public interest in this issue is rising, and society is demanding that companies step up with big actions. The Task Force on Climate-related Financial Disclosures (TCFD), which was established by the Financial Stability Board, published its final report in 2017 that urged companies to disclose information on their climate-related risks and opportunities.
Toshiba Tec Group will actively disclose information on climate change in the four areas (Governance, Strategy, Risk Management, and Metrics and Targets) specified by the TCFD.
In addition, Toshiba Group have expressed our support for the TCFD recommendations and are a member of the TCFD consortium, which aims to promote actions by organizations in Japan in support of the TCFD recommendations.
Governance
In the Toshiba Tec Group, the Corporate Environmental Officer reports on climate change and other important environmental issues, especially important agendas related to management risks or opportunities. This is done to the President at the Corporate Management Meeting as well as to all the directors, including the outside directors, twice a year at the Board of Directors meeting. What is discussed and decided upon at board of directors meetings is reflected in our group's management strategy.
Prior to board of directors meetings, the policies, strategies, and measures related to the environment, including climate change, are discussed at the Corporate Environmental Management Committee, which is chaired by the Corporate Environmental Officer. This semiannual meeting is attended by the environmental promotion managers of key group companies, corporate staff division managers, and Corporate Environmental Management Office personnel.
Environmental Management Promotion Structure
Strategy
The Toshiba Tec Group considers "environmental management" as an important issue, and in particular "climate change mitigation and adaptation" which has a significant impact on business activities due to the magnitude and scale of its influence.
We are attempting to predict the future, specifically 2030 and 2050, by analyzing climate change-focused scenarios such as the 2°C (and beyond 2°C) scenario by the International Energy Agency (IEA) and the 4°C scenario by the Intergovernmental Panel on Climate Change (IPCC). The 2°C (and beyond 2°C) scenario predicts risks (e.g., stricter energy efficiency regulations and the introduction of a carbon tax) as well as opportunities (e.g., increased demand for energy-saving products and energy technologies to realize decarbonization). The 4°C scenario predicts higher physical risks due to disasters such as flooding and typhoons. Based on these predictions, each group company analyzes risks and opportunities in each business field and shares the analysis results at Corporate Environmental Management Committee meetings. We will estimate the medium-to long-term risks and opportunities for market expansion/creation for each business based on the TCFD recommendations, and we will reflect these estimates in our future business strategies.
The table below shows the currently assumed risks and opportunities for Toshiba Tec Group.
Transition Risks
Area
Assumed risks
Toshiba Tec Group's response
Policy and regulations
Increased costs due to the tightening of energy efficiency regulations and the introduction of a carbon tax; missing out on sales opportunities in the case of a failure to adapt to these changes
Set a medium- to long-term goal to reduce GHG emissions across the Group's value chain
Reduce the total GHG emissions by transforming the process through DX (such as the application of AI and optimization of supply and demand)
Reduce CO2 emissions by eco-products
Enhance compliance with global environmental regulations and human resource development
Greenhouse gas emissions across the value chain
Technology and markets
Loss of sales opportunities due to delays in responding to market needs for a carbon-free society such as energy-saving products and services
Set a medium- to long-term goal to reduce GHG emissions across the Group's value chain
Reduce CO2 emissions more with low-power consumption products and services
Reputation
Lower corporate evaluations and reputation due to delayed response to climate change; the impact of such delays on the stock price and sales
Improve reporting based on external requirements
Physical Risks
Assumed risks
Toshiba Tec Group's response
Damage to production equipment due to disasters (e.g., flooding and typhoons); suspended procurement of raw materials and parts; suspended operations of production sites due to disrupted logistics and sales capabilities
Formulate BCP measures at each site, such as raising the floor where equipment is installed in areas at risk to large-scale water hazards
Secure multiple suppliers that are based in different locations
Check BCP measures during the assessment process prior to new site construction
Opportunities (products and services)
Assumed opportunities
Toshiba Tec Group's response
Increasing market needs conscious of a carbon-free society due to the manifestation of the effects of climate change
Provide low-power consumption products and services
Increasing market needs with an awareness of resource saving and resource recycling
Provide services for paperless operation
- Expand electronic receipts (Smart Receipt)
- Accelerate the transition from printing
solutions to data management solutions
Use more recycled materials
Increasing market needs with an awareness of a society that coexists with nature
Provide supplies made of paper or plant-based materials such as sugar cane and bamboo fiber
Response to the spread of infectious diseases
Provide cashless and self-payment checkout solutions
"Response to climate change" is one of the priority actions in the newly created "Environmental Future Vision 2050".
Considering the fact that GHG emissions throughout our entire value chain are mostly derived from the use of products and services, we will take effective measures such as the improvement of the energy-saving performance of products and services, and the expansion of the business for realizing a decarbonized society.
Risk Management
At the business risk meeting, we assess risks of matters, including climate change-related risks, that have a significant impact on management. Matters that are especially important due to their business risks are discussed at the Management Committee meeting.
Moreover, climate change-related risks and opportunities that have been assessed and identified are shared by the Corporate Environmental Officer, group companies, and corporate staff divisions at Environmental Management Committee meetings, and these are managed through the aforementioned organizational structure for promoting environmental management.
Metrics and Targets
The Toshiba Tec Group aims to achieve carbon neutrality throughout its entire value chain by contributing to realizing a net zero emissions society by 2050.
Toshiba Tec group set out the following breakdown of greenhouse gas (GHG) reduction targets for FY2030 and are promoting initiatives to achieve such targets.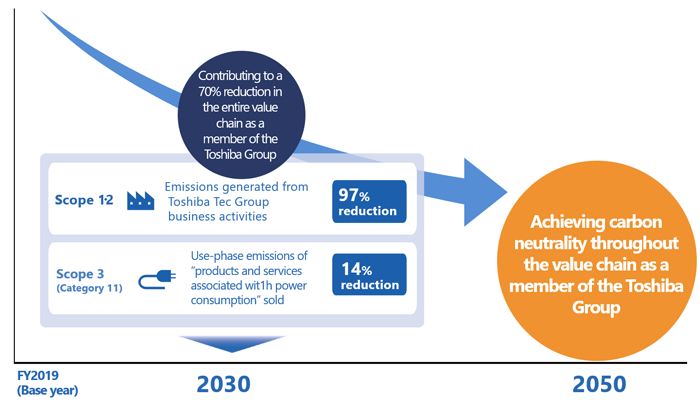 (All 2019 standards)
-Reduce the total of Scope 1*1 and Scope 2*2 (GHG emissions generated from Toshiba Tec Group's own business activities) by 97% by FY2030.
-Reduce the total of Scope 2 by 100% by FY2030.
-Reduce use-phase GHG emissions of "products and services associated with power consumption"*3 sold in Scope 3*4 by 14% by FY2030.
*1 Amount of direct emissions through fuel use at Toshiba Tec Group
*2 Amount of indirect emissions through use of electricity and heat purchased by Toshiba Tec Group
*3 Retail & printing equipment
*4 Amount of indirect emissions generated by Toshiba's value chain (raw materials procurement, distribution, sales, disposal, etc.) outside Scopes 1 and 2
Toshiba Group's Environmental Future Vision 2050
The Seventh Environmental Action Plan