TOSHIBA B-452
Outstanding features of the B-452 Series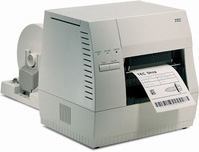 Network
Fitting into the needs of the network era, you can respond to the network requirments.
Considering the network connection, we developed the optional LAN board. You can connect a number of units to the network. Furthermore you can execute advanced labelling tasks such as distributed work management and unified data supervision. (Printer driver compatible with Windows 95/98 and Windows NT)
Compact & High-Quality
Compact but with clear-cut print using a high density print head
So compact it does not take up a lot of space. *(Footprint 286 x 400 mm) You can carry out most of the operations form the front panel and so make good use of space of the both sides. For all that, we installed a high density head of 300dpi into the printer to achieve high definition thermal-transfer print. *(footprint without the label holder is 268 x 198mm)
Font Variation
Needless to say, abundant fonts plus numerous bar codes and two-dimensional codes are built in.
We supply 20 bit map fonts & 7 outline fonts as standard, 20 true type fonts as an option, most common bar codes and 4 kinds of two-dimensional codes. Furthermore, you can manage both size and layout freely by using the free format system. You can create exclusively intrinsic labels by the combining the enlarging of characters and reversal functions.
Ease of access
With a structure that you can easily maintain the unit and replace paper and ribbons without fuss.
Day to day operation is user-friendly with the easy maintenance. Should a paper jam occur you can clear it with out hassle. Also exchanging paper and ribbons is a breeze with the pop-up the ribbon (head) mechanism.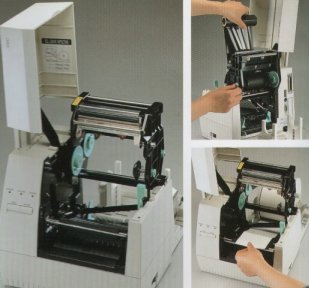 Printing
Suffices multitudinous needs with diverse media
The Paper size is variable from 47 to 114mm width and 15 to 997mm length (print length: 15 to 500mm). You can print various cards; price tags, stock labels, article labels, rating labels and tickets. Better still, the optional cutter module and the peel-off module extend the functionality to variable length cutting and on-demand printing.
B452 with built in 12V DC-DC converter for mobile cart.
TOSHIBA TEC provides a barcode label printer, B-452 with built in 12V DC-DC converter for mobile cart.
For more detailed information, Click here to contact us.