TOSHIBA WILLPOS M30
Features
PROCESSING POWER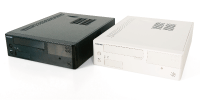 With the latest Intel® AMT technology, a range of processor options for every budget satisfy the most demanding application requirements. Performance is typically 5 to 20 times superior to current top-of-the-range POS products. Easy upgrade options offer essential future-proofi ng, allowing the POS to grow with the needs of your business.
LOW COST OF OWNERSHIP
Designed to be 'retail hardened', the powerful ST-M30 has a lifespan way beyond the 12 to 18 months of standard PC products. Combine with a low purchase price, power saving 'green credentials' and future-proofi ng upgrade options, to lower total cost of ownership over the life of the product.
CONNECTIVITY

Enhanced connectivity to support both new and legacy peripheral options, with PCI slots for essential expandability.



REMOTE MANAGEMENT
The ST-M30 with Intel AMT technology provides a full management package. Even a novice user can simply and easily reload software without the need for engineer intervention.
SERVICEABILITY
The Toshiba POS range is synonymous with effortless maintenance and slide-out serviceability. The ST-M30 HDD frontloading design allows for quick and easy hard drive replacement.
ENERGY-SAVING MODE

The ST-M30 can simply be shut down and bought back to life in an instance. 'Hibernation' or 'deep-sleep' mode dramatically reduces power consumption when compared to traditional 'stand-by mode'. This functionality not only reduces cost of ownership, but enhances the 'green credentials', by ensuring consumed power is kept to a minimum.



ALTERNATIVE APPLICATIONS
The superior processing power opens new markets for the Toshiba ST-M30.

• Kiosk - As the core engine of kiosk
• Digital Signage - Server for digital signage
• Back-Offi ce PC Server - Inventory control, stock-taking, ordering, customer management, sales management
Specifications


WILLPOS M30

CPU
Intel Sandybridge Core i5-2400 (3.10GHz, 6Mb cache, 4 cores)
Intel Sandybridge Core i3-2400 (3.30GHz, 3Mb cache, 2 cores)
Intel Pentium Dual Core G850 (2.90GHz, 3Mb cache, 2 cores)

Intel Celeron Dual Core G540 (2.50GHz, 2Mb cache, 2 cores)
Chipset
Sandybridge Q67 Express

Memory
2GB as standard (max. 16GB) dual channel DDR3 1066/1333 SDRAM

HDD
HDD 250GB x 1 (max. 2 drives), SATA I/F (SSD option)

RAID
RAID 1 supported, software RAID 0/1
CD/DVD Drive
Integrated (option)

RS232C

4 (2 x male + 2 x female) with 5V/12V or non-powered by jumper switch
1 option with 5V/12V or non-powered by jumper switch
Normal USB

6 (2 x front, 4 x rear)
Powered USB
12V x 1 (rear), 24V x 1 (rear)
PS/2
Mouse x 1 (rear), keyboard x 1 (rear)
Drawer Port
2 (Toshiba I/F + 1)
Parallel
1 (rear)
Display I/F
1 (rear) D-sub 15pin female, 1 (rear) DVI-D
LAN
10/100/1000 BASE-TX x 2, wake-on-LAN
Audio
Line-out x 1 (rear), line-in x 1 (rear), mic-in x 2(front / rear), headphone x 1 (front)
Speaker
Sound (internal), beep (internal)
Expansion Slots
2 (PCIe x4 /16) *in case of COM5 installed, PCIe x16 free
OS
Windows 7 Professional 32bit / 64bit, Windows XP Professional 32bit, Windows Embedded POSReady 2009, Windows Embedded POSReady 7, WEPOS Version 1.1, Windows 2008 Server, SUSE Linux Enterprise Desktop 11,
SUSE Linux Enterprise Server
Cabinet Colour
FW2 (Fair White2), Black
Weight
7.2kg
Dimensions
325(W) x 400(D) x 100(H) mm