CF1/CF1L/CF1XL, the ultimate inkjet head for excellent
jetting reliability with ink circulation
Advantageous effects of ink circulation

1)Auto and quick recovery of failing nozzles
2)Stable print quality with uniform temperature
3)Easy to fill ink
4)Improve productivity
5)Reduce running cost

636 nozzles with 300dpi nozzle density

Within-a-dot gradation with multi-drop technology

Excellent dot placement accuracy
Features
Ink circulation in the head prevents ink from staying in pressure chambers and keeps constant supply of ink.
With this feature, CF1/CF1L/CF1XL offers a structual solution to the challenges of conventional inkjets.
CF1/CF1L/CF1XL is an inkjet head that offers a long-awaited solution of enhancing jetting reliability, and its print quality well fits
a wide range of application from transpromotional, label & packaging to sign & graphics.
In particular, CF1/CF1L/CF1XL demonstrates its full merit for a singlepass printing where reliability is a top priority.
1. Structure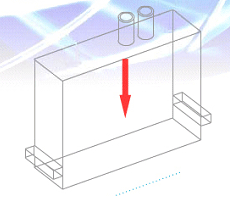 Ink is filled by way of ink inlet on the top and descend through the pipe to the foot where pressure chambers are located.
Ink spreads over to all the channels for printing.
Ink for printing is ejected by each nozzle and the rest of it is collected to the center to be ejected to outside by way of ink outlet pipe.
2. Pressure chamber
Nozzles are located at the center of piezo channel of the pressure chambers with both ends open. Thus ink can be ejected during circulation.

3. Advantageous merit of ink circulation
Alteration and sedimentation of ink in nozzle area can be avoided.
(1)Auto and quick recovery of failing nozzles
Failing nozzle may happen due to air bubbles or some other reasons. Circulation of ink removes those obstacles and the failing nozzle recovers almost instantly.

(2)Stable print quality with uniform temperature

Activity of head causes heat and may affect ink temperature.
Circulation of ink alleviates the influence of heat and helps stabilize jetting performance.
(3)Easy to fill ink
Conventional inkjet may have some problem starting printing job, which requires a lot of head maintenance work in order to get nozzle conditions in good shape. Use of CF1/CF1L/CF1XL minimizes the start-up trouble because its ink circulation feature keeps supplying ink preventing nozzles from being contaminated.
(4)Improve productivity
Not only the print speed but also the maintenance frequency greatly influences productivity. CF1/CF1L/CF1XL decreases the requirement of head maintenance.
(5)Reduce running cost
Ink circuration reduce the amount of waste ink resulting in reduction of the running cost.
These unique feature helps reducing ink consupmtion and CF1/CF1L/CF1XL gives more eco-friendly printing job.
Specifications
CF1
CF1L
CF1XL
Print Method
Drop on demand piezo
Print width
53.7mm
Number of channels
636
Resolution/Channel pitch
300dpi/84.5μm
Grayscale level
8-Levels
(0,1-7dpd)
8-Levels
(0,5-7dpd)
6-Levels
(0,1-5dpd)
Drop Volume
6-42pL
64-90pL
36-180pL
Maximum dot frequency*1
4.97kHz
(at max.dpd)
4.8kHz
(at max.dpd)
4.8kHz
(at max dpd)

Linear Speed*1
25m/min
(at max.dpd)
24m/min
(at max.dpd)
24m/min
(at max dpd)

Driving Voltage
14-31V
Drop Velocity
9-11(m/s)
7-9(m/s)
7-9(m/s)
Weight
161g(185g with positioning plate*2)
Dimensions
94(W)×79(D)×26(H)mm
(111(W)×79(D)×34(H)mm with positioning plate*2)
Jettable fluids
UV-curing & oil-based(consult us for compatibility assurance)
*1 Maximum print speed and linear frequency can be increased by reducing the number of drops per dot(dpd)
*2 A factory-fitted option enabling easy and accurate head positioning with a precision of 10 μm to the 1st nozzle.