High Quality and High Resolution
Features
1. Higher nozzle density with 636 channels
Higher nozzle density with 636 channels
CE2 is designed and more suitable for single pass application with its 300dpi resolution.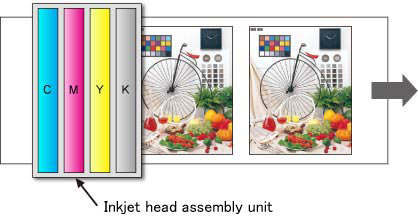 2. Wide range of drop volume
Unique technology of jetting multiple drops onto a single dot creates wide range of grayscale with minimum 6 pl to maximum 90 pl (15 drops) per dot. (equal CA4)
Compared with conventional binary inkjet heads, it is more suitable to express smooth density gradation from light to dark for various industrial printing.


Print sample with OHP sheet
3. Higher driving frequency(especially at small drops)
CE2 realizes 28KHz at 1drop (6pL) mode, which is same interface as CA4.
It is 6.2KHz for 7drop mode (42pL), 30% faster than CA3. Its linear speed is 35 m/min at (6pl, 1200dpi) mode and 31m/min at (42pl, 300dpi) mode, suitable for high productive industrial application.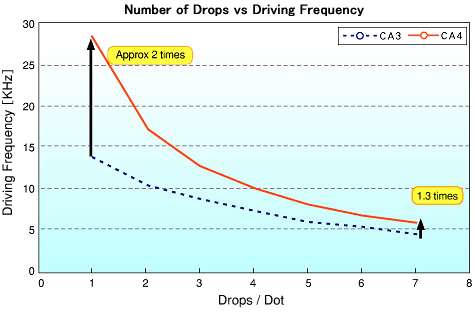 Note 1: Data transfer mode is different in 15KHz or more.
Note 2: Driving frequency in CA3's 1-6drop is a referenece value.
Note 3: Above data is based upon TOSHIBA TEC's internal test result. Optimized driving frequency may vary depending upon the ink to be used.
4. Excellent dot placement accuracy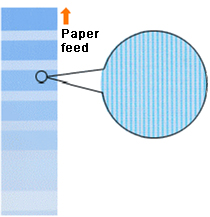 Accurate dot placement is achievable with excellent piezo process and jetting control technology
1)For a single pass type application;
realize higher print speed
realize wider swath by assembling multiple heads into a wider array
2)For a scanning type application;
improved throughput by reducing the number of scanning
further improvement in printing speed by adding more printheads per color
5. UV curable and Oil based pigment ink compatible
TOSHIBA TEC's inkjet head is compatible with both UV curable and oil based pigment inks.
Oil based pigment ink is quick-drying, and suitable for a high-speed application with absorptive substrates required.
UV curable ink is fit with non-absorptive substrates, and suitable for various industrial applications.
Aqueous ink, solvent ink and other special types of ink needs testing with printheads.
Please consult with TOSHIBA TEC in case those type of inks are required for your application.
6. Stable jetting with water circulation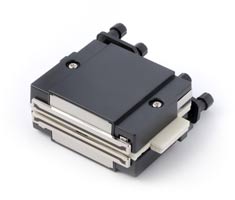 CE heads are equipped with a chassis with a water channel and water ports. Circulating thermal controlled water in the chassis creates uniform temperature distribution in the printhead. It allows more stable jetting performance.
Specification
CE2
Print Method
On demand piezo method
Printable Area
53.7mm
Number of channels
636/head
Resolution / Channel pitch
300dpi/84.5 μm
Gradation
Multiple drops
GrayScale
8-levels(Standard)
16-levels(Maximum)
Drop Volume
6-90pl
Maximum Dot Frequency
28.0KHz(1drop)
6.2KHz(7drop)
2.8KHz(15drop)
Linear Speed
31m/min@7drops, 300dpi
35m/min@1drop, 1200dpi
Head Driving Voltage
14-31V
Curcuit Driving Voltage
39.0V
Ink*
Oil based pigment ink / UV curable pigment ink
Weight
174g
Dimension
85(W)×74(D)×33(H)mm
Cover
Yes
Chassis
Ceramic chassis with water channel
Notes:Phrase in parentheses is a reference value.
Design and specifications subject to change without notice.
* Some ink may damage printheads depending upon the chemical used.
It is recommended that material compatibility test be carried out before use to obtain optimum print performance of the printheads.