Response to the circular economy
To efficiently use resources, we work on the reduction of the total volume of waste generated, by recycling and other methods.
Minimizing total volume of waste generated
To efficiently use resources, we work on the reduction of the total volume of waste generated.
In fiscal 2017, TOSEI left Toshiba Tec Group, and in fiscal 2018, Kokusai Chart left Toshiba Tec Group, resulting in a significant reduction of waste generated.
We also visit recycling bases in Japan, directly assess the processing status, and are striving to improve communication with them to increase recycling rates. We will continue working on the efficient use of resources in the future.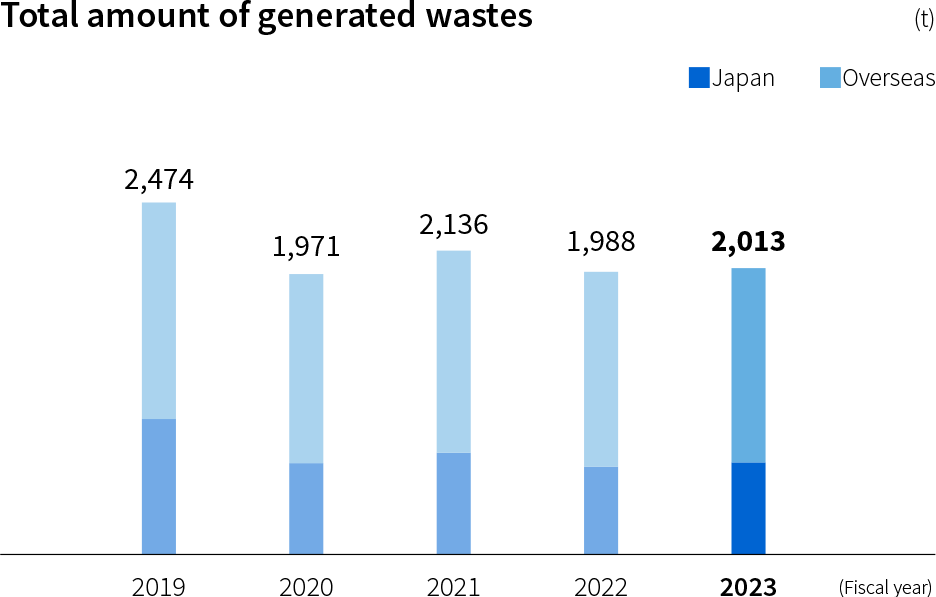 Approach by Each Site
Recycling of cardboard boxes
Toshiba Tec Europe Imaging Systems S.A.
Cardboard boxes left over after delivered components are unpacked in the production line are repurposed for use as product shipping cushioning.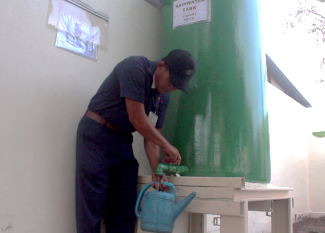 Recycling of solder scraps
Toshiba Tec Information Systems (Shenzhen) Co., Ltd.
We reduce waste by recycling solder scraps generated in the production line through the refinery.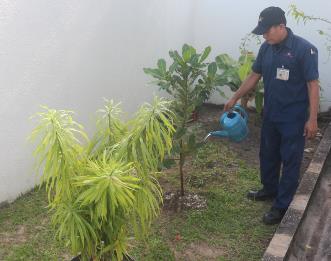 Reduction of wood pallets
Toshiba Tec Singapore Pte Ltd.
We replaced wooden pallets with reusable plastic pallets or cage carts.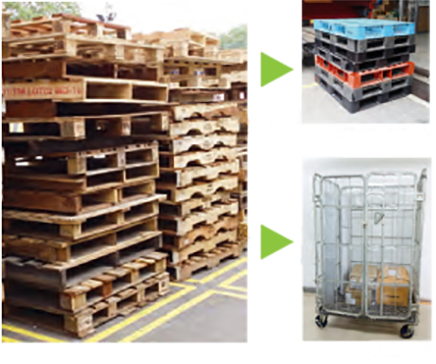 Efficient use of resources
P.T. Tec Indonesia
The company utilizes waste lumber to repair canteen equipment, as part of its efforts to make good use of resources.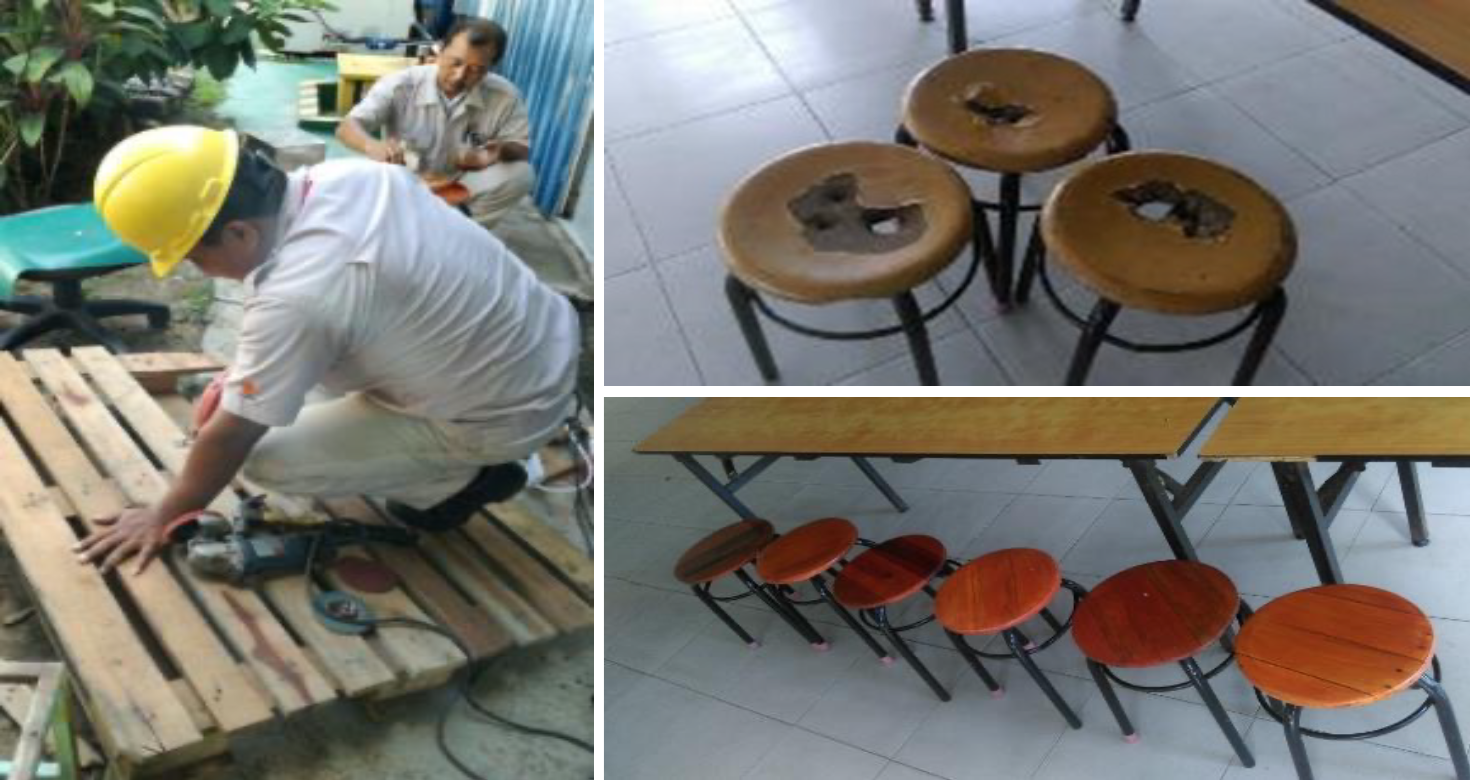 Reduction of corrugated cardboards with returnable containers
Toshiba Tec Information Systems (Shenzhen) Co., Ltd.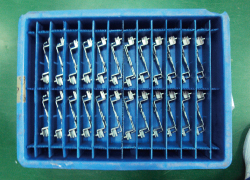 Since the second half of fiscal 2004, we have been using returnable containers in place of corrugated cardboard. 65 out of 90 vendors in mainland China are currently using returnable containers, in other words, returnable containers are used for 90% of the total logistics volume. As a result, we have significantly reduced the usage of corrugated cardboard (HK$ 6M on an annual basis), making a large contribution to environmental protection.
Toner Cartridge Recycling Project
Toshiba Tec Singapore Pte Ltd.
We have started activity contributing to recycling of toner cartridges used in-house since 2009.
Employees collect end-of-use cartridges and put into the collection box for recycling.
Recycling of waste printed circuit boards
P.T. Tec Indonesia
We made design changes to printed circuit boards, making it easier than before to separate waste and valuables, and resulting in an increase in value.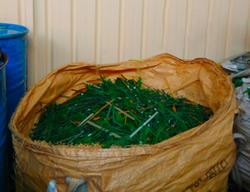 Recycling of label paper mounts
Toshiba Tec Singapore Pte Ltd.
We entrusted the recycler label paper mounts, which were generated as a result of label printer performance testing, to reduce waste.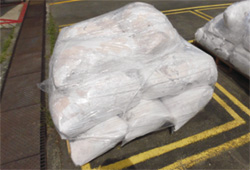 Conversion of landfill waste into valuable resources
Toshiba Tec Corporation, Shizuoka Business Center
We dehydrated sludge generated in the business sites through the screw press dehydrator, converted it into valuable resources and provided them to treatment operators.

Information exchange with the recycler
Toshiba Tec Corporation, Shizuoka Business Center
We observed the disassembly process of end-of-use products and exchanged opinions with our recycler.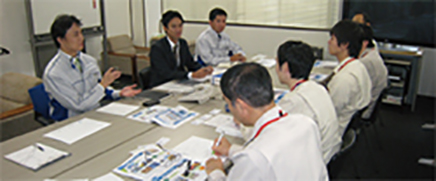 Disassembly and separation of waste by type
We separate and discharge waste, which is discharged from each workplace, by type at Shizuoka Business Center.
Waste is disassembled and separated as much as possible, and reduced in volume, compressed and crushed at the Eco Station (final waste collection point). In this way, substances, which were previously discharged as industrial waste, can currently be recycled as valuable substances, achieving significant results in waste cost reduction and resource recycling. At the Mishima site, we are also using a system to automatically weigh the amount of waste discharged from each division by type, enabling more real-time management.

Full view of Eco Station
Separation/collection

Styrofoam volume reduction system
Blocks after volume reduction
Efficiently using water
Of the water we receive, only a small amount is used in the manufacturing process, while most of it is used for dail needs including toilets, canteen and company dormitories. Our water usage remained relatively stable. We have been encouraging our employees to save water through posters and other means. We also ran a campaign under the annual environmental theme to promote the use of rain water at all sites. These efforts will continue in the years to come. Water usage increased in fiscal 2019 from the level of 2018 owing to damaged underground water pipes (overseas site) and a broken float switch (domestic site). In response to these incidents, we are working on the improvement of methods for facility inspection and replacement of aged equipment so as to prevent further loss of water resources caused by equipment failures. In fiscal 2020, water usage decreased because more employees worked from home due to the COVID-19 pandemic.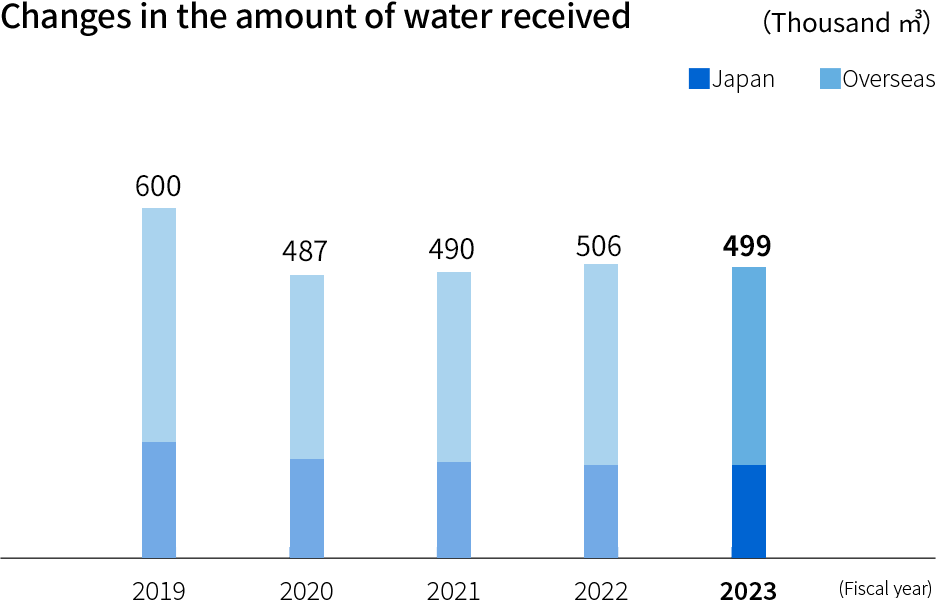 Approach by Each Site
Use of rainwater
P.T. Tec Indonesia
Reduction in water consumption contributes to cost reduction and biodiversity. Because we are located in a high annual rainfall zone, we keep rainwater in a storage tank and use it for sprinkling and cleaning the floors outside.