Toshiba Tec Group works on compliance activities while thoroughly observing laws and regulations, internal rules, and social customs on a global basis.
Risk Compliance Promotion System
We appoint each company president and CEO as a CRO* in order to propagate and thoroughly implement the Toshiba Tec Group Standards of Conduct as well as advance the risk compliance measures. The top management leads the initiative to devise and promote various strategies in response to emergency situations.
We organize the Risk Compliance Committee under the leadership of the CRO to maintain the risk compliance system of the entire Toshiba Tec Group, and devise and promote the advancement of risk compliance.
*

CRO: Chief Risk Compliance Management Officerf
Risk compliance system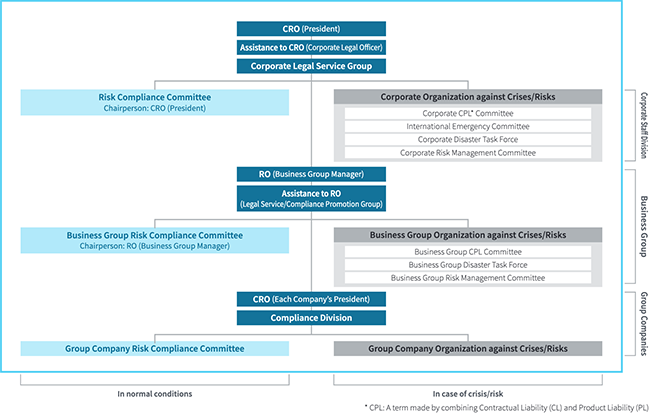 Internal reporting system
We, Toshiba Tec Group, have established an internal reporting system as a way of consulting/reporting on illegal, dishonest and unethical behavior, as well as internal rules which enable executives and employees to provide information to the CRO or outside attorneys.
We give maximum consideration to ensuring the anonymity of whistleblowers, thoroughly managing information and protecting them from suffering any detrimental consequences, such as dismissal, as a result of their whistleblowing.
In addition, the "Toshiba Tec Partner Hotline" has been introduced and operated so that business partners can provide information through the website.