With the aim of achieving a sustainable society in collaboration with business activities and local communities, we contribute to creating a sustainable society in the three aspects of society; (1) a de-carbonized society, (2) a recycle oriented society, and (3) a coexisting with nature society. We demonstrate environmental contribution to the society and customers through our business activities by creating Only One products and solutions, as well as our environmental activities that have achieved remarkable results and correspond to the needs of each area and society.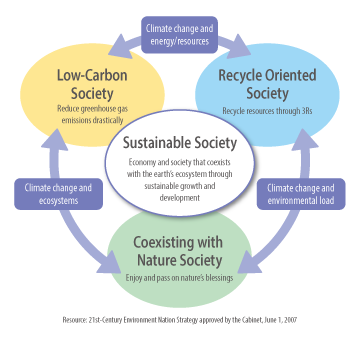 We provided products and services that contribute to a de-carbonized society and recycle oriented society as described below.
(1) Paper Reusing System
The "Loops LP35/45/50" paper reusing hybrid MFP system that generates regular as well as erasable prints was released in July 2017 as the only product of its kind in the world.
(2) Smart Receipt (Electronic receipt)
Electronic receipt system services for self-medication tax systems were commenced in April 2017.
Demonstration experiment of social infrastructure for Smart Receipt was started in January 2018.
The nation's first promotional partnership using Smart Receipt was implemented throughout Okinawa in September 2018.
(3) System using RFID (Electronic tag)
"Model for reducing environmental burden and improving productivity in apparel supply chains, taking advantage of electronic tags" received the Special Awards of the Green Logistics Partnership Conference in December 2017.
Demonstration experiment of information sharing in supply chains was conducted in February 2018.
Collaboration toward providing next-generation logistics services with IC (RFID) tags started in May 2018.
The "Automatic Transport RFID Tunnel-type Gate" was developed in June 2018.