Toshiba Specialist Printing Solutions For Healthcare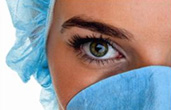 Tried & Trusted Prinitng for Hospitals, Pharmacies & Surgeries
Through understanding the unique day-to-day issues faced by health professionals, Toshiba and its partners provide effective printing solutions for today's flexible working demands. These solutions enable healthcare organisations, such as NHS and Primary Care Trusts, community practitioners and other associated agencies to directly improve measurable objectives such as service levels and patient care outcomes.
Toshiba printers are the choice across the world for healthcare professionals in the workplace and on the move, providing on-demand labels, tickets and receipts efficiently and immediately. From portable, through to industrial and high resolution, Toshiba products are used for a wide range of applications throughout the healthcare sector.
Patient Administration - Ward/Wristband Printing:

for tracking and monitoring patients, critical to improving patient safety and minimising potential medical risks.
Pharmacy:

for high quality, accurate labels, with the flexibility of many different label sizes.
Asset Labelling:

Toshiba's innovative SPRiNT technology, offers a low-cost RFID labelling solution for asset management, enabling printing and encoding directly to the tag.
Lab / Sterilisation:
specialist hi-resolution printing, producing high quality labels in the harshest of environments. Ideal of vial, slide and sample labelling.
Blood Bags:

Toshiba printers allow full adherence to the formats required for blood bad labelling.
Pathology Radiography X-ray:
low-cost solutions for standard labelling requirements.
The Toshiba Healthcare Range
PORTABLE PRINTING
Integrating with all types of system infrastructures, Toshiba portable printers are used to produce prescriptions, tickets and label whenever and wherever they are required. Rugged and reliable, yet incredibly small and light, they are designed to be won effortless by healthcare professionals.

Ultra-compact and contemporary rugged design
Operator keypad with backlit LCD information display
Superior print speed, with 'peel and present' labelling
Largest media capacity with quick & simple
Flexible connectivity: USB, Bluetooth & Wireless LAN
Swaps easily into existing system
DESKTOP AND TROLLEY-BASED SOLUTIONS
Producing top quality barcode labels in demand only when needed can dramatically reduce wastage. Dedicated Toshiba desktop label printers are compact, fast and so easy to use, giving professional and reliable results time after time.

Compact professional label printing
Design & print straight form a PC
200 or 300dpi print resolution models
Slots straight into existing systems
Legendary build quality in a tough plastic case
Transportable as part of trolley-based solution
INDUSTRIAL AND RFID PRINTING
For more demanding, high-volume health applications, Toshiba's industrial range guarantees performance without compromising print quality. Uniquely developed to be 'furture-proofed', the addition of an RFID module will allow implementation of new innovations in technology, without costly hardware changes.

Unique Heads Up Functionality, for ribbon-save and to protect RFID chips
SNMP tools allowing management of all printers on a network from a central source
Print speeds up to 10inch/sec
Easy maintenance with 'tool-less' change of key components