Toshiba America Business Solutions Receives Keypoint Intelligence's Buyers Lab PaceSetter Award

-Efforts in the logistics field highly praised-
June 17, 2020
Toshiba Tec Corporation
Toshiba Tec Corporation's overseas subsidiary in America, Toshiba America Business Solutions, Inc., received the PaceSetter Award from the Buyers Lab (BLI) at Keypoint Intelligence, an American research organization.
This prize recognizes business activities in various fields within the document imaging business area, and covers a wide range of initiatives including those in technology and services. This time, Toshiba America Business Solutions received an award for their activities in the logistics field.
In our company's mid-term business plan announced last year, we set out our aim to become a solution partner to provide stores and offices with value creation and innovation. In addition to the solutions we have provided so far focused on stores and offices, as a new venture, we have branched out into logistics and manufacturing, as well as the supply chain business, and even set delving deeper into the LMR (Logistics, Manufacturing and Retail store) market as one of our fundamental strategies in the Printing Solutions Business.
In recent years, the demand for improvements to productivity, stock reduction, and solutions aimed at reducing waste and loss have been increasing in the logistics and manufacturing field. Our company has already provided barcode printers and RFID products to many of our customers in this field. Toshiba America Business Solutions, who were the winners of this prize, have come to offer barcode printers, MFPs, and digital signage products, as well as on-site solutions that match these and that only they can provide. These kinds of initiatives were highly praised, and this time, they were presented with their second Buyers Lab PaceSetter Award in the logistics field.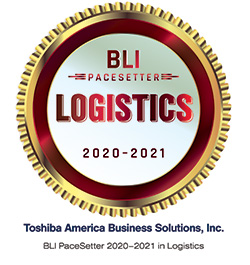 About Keypoint Intelligence and Buyers Lab
Keypoint Intelligence is a research institute that offers one-stop services in the document imaging business. With their excellent services and bountiful knowledge, they analyze data, and provide impartial expertise and tools that can help bring about solutions essential for the key phases of improving customers' product differentiation and reinforcing marketing power.
For over 50 years, Buyers Lab, one of Keypoint Intelligence's business divisions, has provided to customers all around the world highly trustworthy information, test data, and sales tools for making comparisons with competitors.
About the BLI PaceSetter Award
This initiative began in 2016 and the award is given to companies which are industry leaders in specific business areas.
The PaceSetter Award is focused on features that set new technology and services apart in the document imaging industry.
Among other services, Keypoint Intelligence carries out market research related to the document imaging industry, makes relevant comparisons, and holds hearings with manufacturers, comprehensively scoring each company, and choosing winners.