Communication Tabletop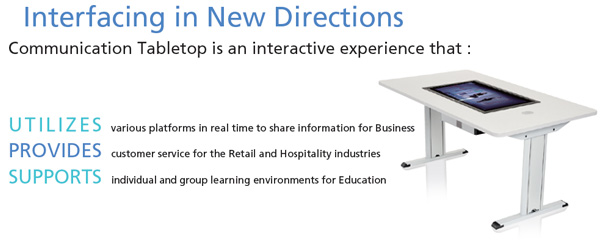 What is Communication Tabletop
supports various businesses
Retail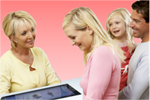 Customer support desk, Information counter
For families with children, to receive customer order window and to display various contents (ex. movie, game, puzzle, etc.) simultaneously, the Communication Tabletop will be giving nice customer experiences and will increase loyalty to the shop.
Travel agency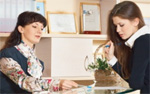 Travel counter, Coordinator desk
Customer search sightseeing information and making a schedule with using Communication Tabletop. It can show campaign video, promotion and coupon information. Additionally, necessary information can be printed out as well to improve customer satisfaction.
Car dealer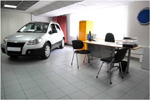 Face-to-face customer support desk
To discuss type of car, color, option with showing several types of candidate items, compare simulations of car loan with several companies one on the touch screen. And explain insurance of car for additional customer support.
Education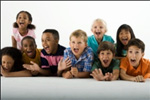 Communication with teacher and students
Displaying an educational contents on the Communication Tabletop screen, it is able to enhance the learning effect of the students. In addition, teacher and students are making discussion collaboratively.
General office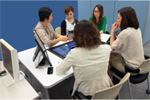 Intelligent desk, Business collaboration tool
The Communication Tabletop is the best device in order to increase the productivity in meeting among employees. Two or more persons are sitting around the Communication Tabletop to share meeting contents together.
Features
Interactive presentations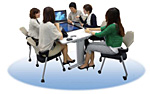 The Communication Tabletop provides enhanced Face to Face communication for interactive presentations.
Intuitive editing in multi-window view
Simple touch operations allow you to move, rotate, zoom-in and zoom out of content. The Communication Tabletop supports the video playback and display of images, as well as PDF, MS Excel, Word and PowerPoint files simultaneously.
Multiple users can write and draw simultaneously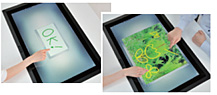 Meeting participants can write directly on open files or images to be used as memos and shared with other devices or printed documents.
Signage mode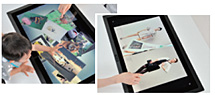 The Communication Tabletop displays the non-editable content that can be used as digital signage in public places.
Monitor, Tablet and Peripheral connections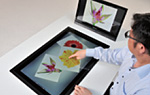 The Communication Tabletop provides Multi-screen function by connecting to an external monitor, and you can transfer items to another screen by swiping.

The Communication Tabletop and Tablet PC/Smart phone connected by Wi-Fi can send and receive files through dedicated software for it.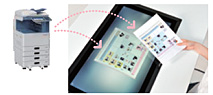 The Communication Tabletop also provides TOSHIBA MFP, printer and scanner connections to support paper documents.
Specifications
Touch display
Size/Type
32inch LCD
Resolution
1,920x1,080 dots
Viewing Angle-Horizontal
1780 (typical)
Viewing Angle-Vertical
1780 (typical)
Brightness
315 nits (typical)
Display Color
16.7M (8 bits)
Contrast ratio
3000:1
Touch panel
10 touch points (capacitance)
Power
AC100~240V±10V, 50/60Hz
Computer
Supported OS
Windows 7 Professional 64 bit
CPU
Intel SandyBridge Core i5-2400 (3.10GHz, 6MB cache, 4 cores)
GPU
AMD Radeon HD7750
Memory
4 GB DDR3 SDRAM
Storage
HDD 2.5" 250GB, SATA I/F
Interface:RS232C
4: (2 Male +2 Female) 1: option
Interface:USB(1.1/2.0)
6: (Front / Rear)
Interface:Powered-USB
12V (Rear), 24V (Rear)
Interface:Parallel
1 (Rear)
Interface:Display I/F
1 (Rear) D-sub 15 pin Female, 1 (Rear) DVI-D
Interface:LAN
10Base-T/100Base-TX/1000Base-T, Wake-on-LAN
Interface:Audio
Line-out (Rear), Line-in (Rear), Mic-in (Front/Rear), Headphone (Front)
Color
Black
Power supply
AC100~240V±10V, 50/60Hz
Total
Weight
60kg approx.
Maximum footprint
160cm (W) 90cm (D) 74cm (H)
Operationvtemperature
5°C~30°
Operation humidity
20~80%
Storage temperature
-20°C~60°
Storage humidity
5~95%
Standard:Safety, EMC
UL/cUL, FCC/IC (USA & Canada)
Standard:RoHS
RoHS Compliance
Standard:Energy star
N/A
Drip proof
IPx1
Warranty
1 year for electronic component