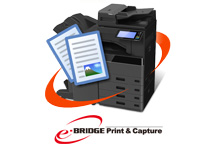 e-BRIDGE Print & Capture
On the go Android or iOS printing.
You can scan too and save the data on your mobile
or to the Cloud for later.
e-BRIDGE Print & Capture = mobility.
All the information you need with you all the time,
anywhere you go.
Summary Screen
e-BRIDGE Print & Capture?
Just download the app from the App StoreSM or Google PlayTM and you're set to go.
Print attachments*1 or cloud data with ease. Advanced settings allow you to choose from various options including number of copies, page ranges, and stapling.
It's eco-friendly -- and saves costs at the same time.
There's Preview to prevent errors, Omit Blank Page Function to reduce wasting paper -- not to mention Toner Save Mode and Twin Color Copy.
Scan documents from a Toshiba e-STUDIO MFP, preview them on your mobile and then save them on your mobile or in the Cloud. Access them later on your mobile at your convenience.
e-BRIDGE Print & Capture is integrated with Toshiba e-BRIDGE Re-Rite OCR, with a range of editable file formats to enhance your workflow.*2
It also interfaces with Toshiba MFPs so you can use your mobile to authenticate access and manage output, ensuring security.
Detecting e-STUDIO MFPs is very easy. The software generates QR codes to be affixed to specific MFPs. IP addresses can be also input manually -- everything wirelessly, as long as all devices belong to the same subnet class.
I/O is truly easy with e-BRIDGE Print & Capture. Your mobile can do almost anything your desktop can.
Just anywhere, anytime.
*1 Attachments: JPEG, PDF
*2 e-BRIDGE Print & Capture Lite does not integrate with e-BRIDGE Re-Rite
A simple operating procedure
For Scanning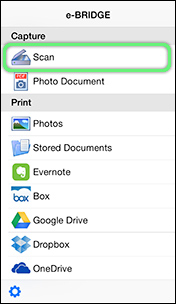 Select "Scan" from menu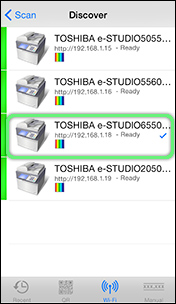 Select device from
scanner/device list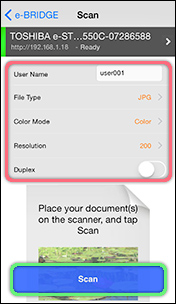 Confirm -- or tap to change
setting and tap "Scan"
to select destination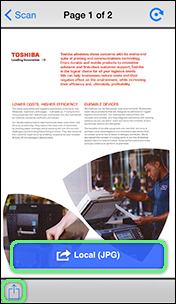 Select destination
and tap to scan
For Printing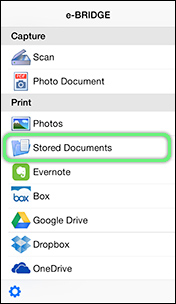 Select output folder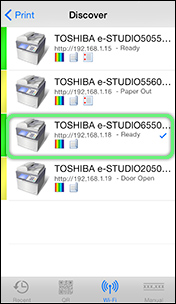 Select device from printer list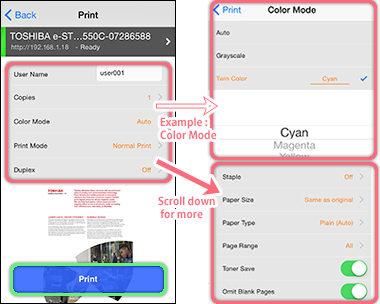 Confirm -- or tap to change setting and tap "Print " to print
e-BRIDGE Print & Capture compatible Toshiba printing devices
Color MFPs
Monochrome MFPs
Paper Reusing System
* Apple and the Apple logo are trademarks of Apple Inc., registered in the U.S. and other countries. App Store is a service mark of Apple Inc.
* Google Play is a trademark of Google Inc.