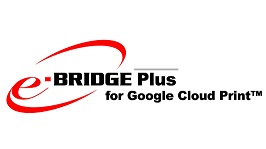 Updated information: Google announced that Google Cloud Print™ will no longer be supported as 31st December, 2020. See more details >>
Use Google Cloud Print™ to send print commands via the Internet from anywhere at any time.
In order to make our e-BRIDGE Next MFPs work with Google Cloud Print™, please install the e-BRIDGE Plus for Google Cloud Print™ application in advance.
What is Google Cloud Print™?
Google Cloud Print™ is a service provided by Google.
It makes it possible to print over the internet from applications and services compatible with Google Cloud Print™, using MFPs that support the service, without installing a print driver on your PC, Chromebook, or Android or iOS wireless device.
You can also make Toshiba's e-STUDIO series compatible with Google Cloud Print™ by installing e-BRIDGE Plus for Google Cloud Print™.
Sample Uses
Print cloud documents from a smartphone without using a PC.
Print from an MFP over the Internet even while at an outside branch or office.
Issue a print command while in transit and then collect the printed documents when you arrive.
*To use the service, it is necessary to register a Google account, and register MFPs connected to the Internet with the Google Cloud Print™ service.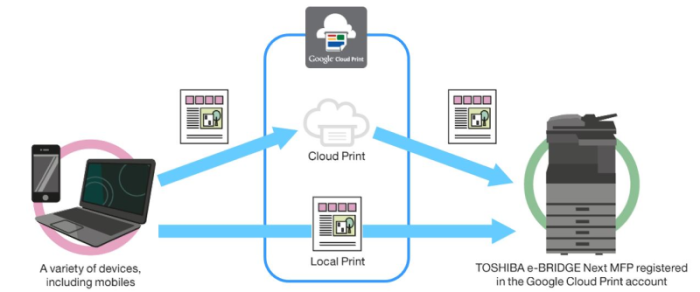 Simple operating procedures (when printing from Google Drive on a smartphone)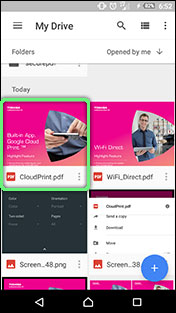 Selct a file to be printed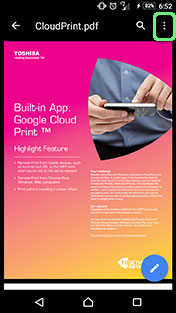 Touch the Menu button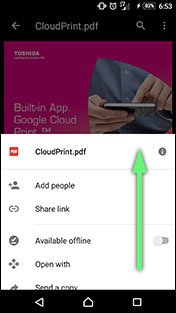 Scroll the menu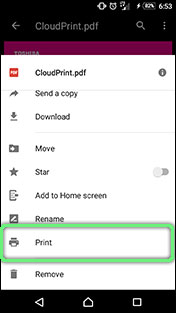 Select "Print"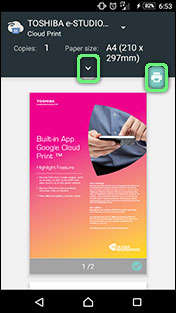 Touch the Print button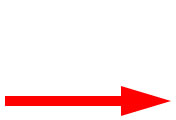 Set the print options as required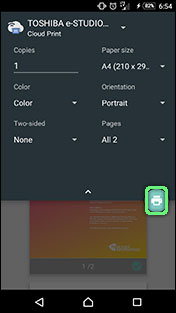 Touch the Print button
Google Cloud Print™ Compatible Toshiba Printing Device
Color MFPs
e-STUDIO2500AC series
e-STUDIO2500AC
e-STUDIO2000AC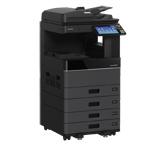 e-STUDIO5005AC series
e-STUDIO5005AC
e-STUDIO4505AC
e-STUDIO3505AC
e-STUDIO3005AC
e-STUDIO2505AC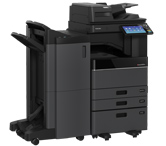 e-STUDIO7506AC series
e-STUDIO7506AC
e-STUDIO6506AC
e-STUDIO5506AC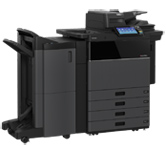 Monochrome MFPs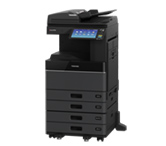 e-STUDIO5008A series
e-STUDIO5008A
e-STUDIO4508A
e-STUDIO3508A
e-STUDIO3008A
e-STUDIO2508A
e-STUDIO2008A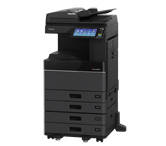 e-STUDIO8508A series
e-STUDIO8508A
e-STUDIO7508A
e-STUDIO6508A
e-STUDIO5508A