e-STUDIO5560C/6560C/6570C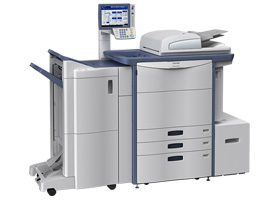 The e-STUDIO5560C/6560C/6570C models are high-end colour MFPs that boast a colour printing output up to 65 ppm. Thanks to the e-BRIDGE controller with e-BRIDGE Open Platform, these products can be linked easily not only with ordinary networks premised on connections with a client PC, but with system networks as well.
Features
High performance
The e-STUDIO6570C series achieves colour output of 55/65 ppm and colour scanning of 77 spm. Its high performance processing positions it as a high end model. The series helps offices improve their productivity not only through its complete line of optional finishing capabilities, tandem print feature, and diverse scanning features, but also by allowing supplies to be replenished while the device is still running.
Wide Range Media Compatibility
The e-STUDIO6570C series can handle a broad range of paper weights and sizes for making attractive printed material. Paper up to 300g/m² in weight and 330 × 483mm in size can be printed. The Banner paper up to 1,200mm and waterproof paper can also be printed.
Security
MFPs are subject to increasing demand to safeguard data, amid growing concerns over information security. The e-STUDIO6570C series is compatible with a variety of communication protocols used to protect information security. The series achieves advanced security without sacrificing ease of use, thorough self-encryption HDD, user authentication and access control. Other powerful security features include the retention of access logs, security-pattern printing, and generation of encrypted PDF.
Refined User Interface
The interface of the e-STUDIO6570C series has been improved substantially, to make the MFP easy to use. Ease of use has been boosted thanks to the easily accessed, 10.4-inch/26.5cm colour touch panel, a menu screen that permits registration of features according to each user's style of use, and simplified printing using one-touch calling of driver settings from the application.
Eco-friendly
The e-STUDIO6570C series is designed to satisfy the latest energy conservation standards, to reduce hazardous substances, and to comply with environmental standards of many countries and region.
Cloud & Mobility
Today, many Cloud & Mobility solutions are provided and these are absolutely imperative for business. Toshiba MFPs easily integrate your workflow by supporting protocol and providing application.
Specifications
Model
e-STUDIO5560C
e-STUDIO6560C
e-STUDIO6570C
General Feature
Copy / Print Speed (ppm)
Color
55
65
65
B & W
55
65
75
Warm-up Time
180 sec.
Memory
2 GB
Storage
320GB
Dimension (W × D × H)
1,109 × 698 × 1,540* mm / 43.7" × 27.5" × 60.6"*
Weight
LCF model: 243 kg / 536 lbs, 4-drawer model: 244 kg / 538 lbs
Input Paper Capacity
Standard
LCF model: 3,500 sheets, 4-drawer model: 2,260 sheets
Maximum
LCF model: 6,000 sheets, 4-drawer model: 4,760 sheets
Available Paper Weight
64 - 300 g/m² / 17 - 110lbs. Cover
Available Paper size
A5-R to 330 × 483mm / ST-R to 13"×19", Banner paper (1,200 mm)
Document feeder
Standard 100-sheet RADF
Duplexing
Standard
Finishing Option
Multi-Position Stapling Finisher, Saddle Stitching Finisher
Copier Feature
First Copy Speed
Color
6.5 sec.
6.5 sec.
6.5 sec.
B & W
5.3 sec.
5.3 sec.
4.6 sec.
Resolution
600 × 600 dpi
Multiple Copy
Up to 9,999
Printer Feature
Resolution
600 × 600 dpi, 1200 × 1200 dpi (PS3)
PDL
PCL6, PS3, XPS
Interface
Standard
USB (High speed), 10/100/1000BASE-T
Option
Wireless LAN (IEEE802.11 b/g/n)
Scanner Feature
Resolution
100/150/200/300/400/600dpi
Max. Scan Speed (B&W / FC)
77 / 77 spm (300 dpi)
Data format
TIFF, PDF, XPS, JPEG
Scan Protocol
SMB, FTP, IPX, FTPS
Scan features
File, Email, USB, e-Filing Box, TWAIN
Internet Fax
ITU-T T.37 (Simple mode)
Fax Feature (option)
Communication mode / Modem Speed
Super G3 / 33.6kbps
Data Compression
JBIG, MMR, MR, MH
Number of Lines (Std. / Max.)
1 / 2
Phonebook
3,000 stations
Security Feature
Standard
Self-Encryption HDD, Private Print, Encrypted PDF, User Authentication, Role Based Access Control, IP/MAC address filtering, SNMPv3, SSL
Optional
Data Overwrite, IPsec, Hardcopy Security Printing
* Height is different depending on the control panel position.
** Specifications and options vary by region.